Chocolate White Chocolate Chip Cookies
Tomorrow is the big reveal of the dessert featuring cookies, and today's post features chocolate cookies with white chocolate chips.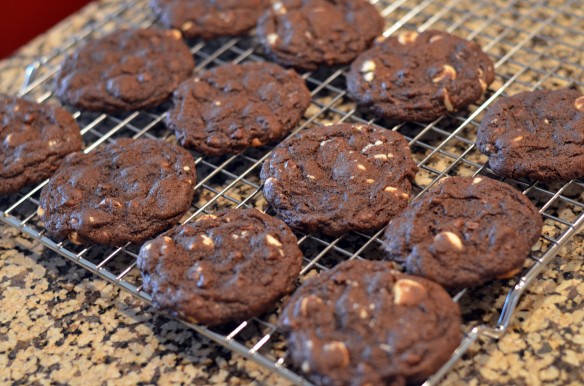 I always think of these cookies as the opposite of chocolate chip cookies. An inside-out chocolate chip cookie, you may say, since they have a dark base, light mix-in versus light base, dark mix-in. But really they aren't opposites seeing that a standard chocolate chip cookie's base is not in any way related to white chocolate. It's still a fun way to think about these cookies, which have an almost brownie taste to them with a cookie texture— soft and chewy since I chose to incorporate cornstarch into the dough, a standard "secret weapon" for soft and chewy cookies.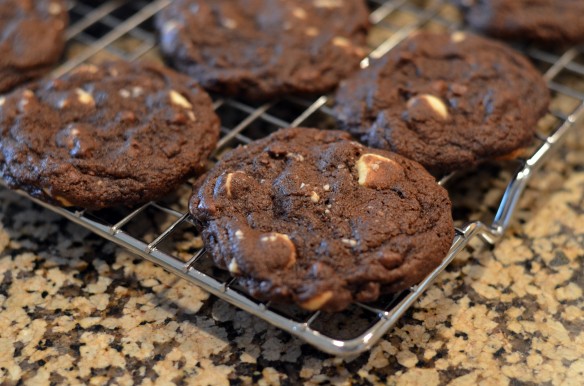 Be prepared to share because this recipe makes a lot of cookies! I started making the cookies really big, bakery-style toward the end so that I wouldn't end up with 4 dozen!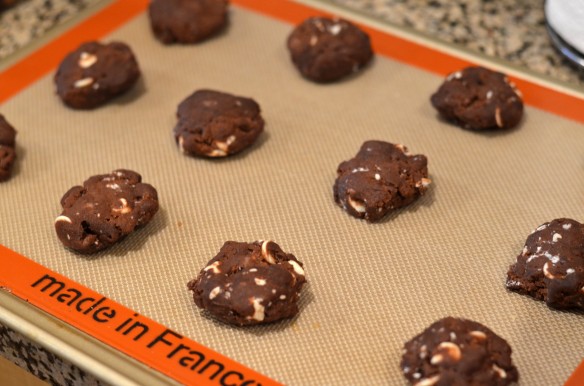 Chocolate White Chocolate Chip Cookies
yields ~3 1/2 dozen
1 1/4 cup unsalted butter, softened
2 cups granulated sugar
2 large eggs
1 tablespoon vanilla extract
2 cups all-purpose flour
3/4 cups unsweetened cocoa powder
1 1/2 teaspoons baking soda
2 teaspoons cornstarch
1 teaspoon salt
1 1/2 cup semisweet chocolate chips
2 cups white chocolate chips
Cream together the butter and sugar in a large bowl until light and fluffy.
Add in the eggs, one at a time, mixing after each addition.
Add in the vanilla extract and mix.
In a medium sized bowl, sift the flour, cocoa powder, baking soda, cornstarch, and salt together.
Slowly add the dry mixture to the wet mixture, mixing until just combined. Do not overmix.
Fold in the semisweet and white chocolate chips.
Cover and refrigerate the dough overnight.
When ready to bake, preheat the oven to 350º and line baking sheets with silicone baking mats or parchment paper.
Scoop tablespoon sized balls of dough onto baking sheets, and bake approximately 10 minutes, or until cookies appear barely done.
Allow to cool on the baking sheet for 10 minutes before transferring to a wire cooling rack.
slightly adapted from the Pioneer Woman