Healthy Individual Tuna & Cheese Casseroles
What I learned living as a bachelorette for 10 days. (1) The house stays a lot cleaner when only one person is living in it, and the trash and dishes are much more manageable. Surprise, surprise. (2) More importantly, if left to my own devices, I would probably live solely off desserts and breakfast food. I ate way too much ice cream, granola bars, fruit smoothies, and oatmeal. I had to exhibit a modicum of self control when shopping at Trader Joe's not to buy a bunch of frozen waffles to add to the mix because I really needed to add some protein to my diet instead of living solely off of carbs with a little fat mixed in.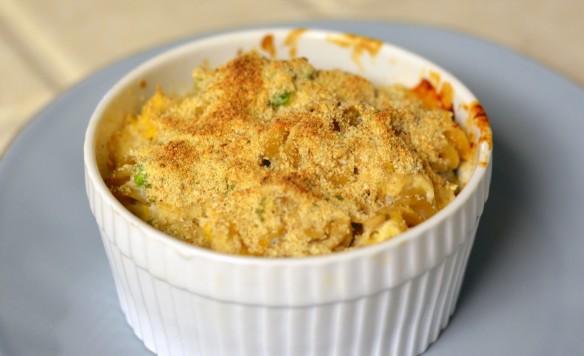 To combat all of that sugar, I made myself some healthy tuna and cheese casseroles in ramekins to create individual portions. I froze the unbaked leftovers and pulled them out over the course of the week for an easy dinner.
I remember seeing a recipe in one of Rocco DiSpirito's cookbooks for tuna casserole that I figured would be easy to turn into individually baked dishes, and I figured Dustin wouldn't mind too much missing out on this dinner. Canned tuna and casseroles really aren't his things.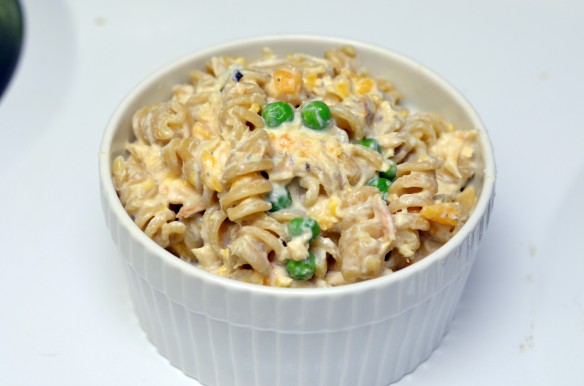 For a healthy version of a traditionally creamy and calorie heavy dish, I was pretty pleased with the results.
Healthy Individual Tuna & Cheese Casseroles
yields 6 servings
8 ounces whole wheat fusilli pasta
1 1/4 cup reduced fat cheddar cheese, shredded
1 cup fat free Greek yogurt
1 cup fat free sour cream
10 ounces tuna packed in water, drained
1 cup frozen peas
1 teaspoon onion powder
1 teaspoon garlic powder
1 teaspoon dried basil
1/2 teaspoon red pepper flakes
salt, to taste
pepper, to taste
1 cup bread crumbs (I used Italian style)
Preheat the oven to 400º. Spray 6 ramekins with nonstick cooking spray.
Bring large pot of water to boil, and cook the pasta until al dente (9 minutes in the case of my pasta). Drain and cool.
Combine the cheese, yogurt, sour cream, tuna, peas, and spices in a medium sized bowl. Add in pasta and coat with sauce.
Portion out between the ramekins and sprinkle breadcrumbs on top.
Bake for 20-30 minutes (depending on whether or not they are frozen) or until breadcrumbs are browned on top. Broil for a minute or two if desired.
(3) Bonnie and I are much happier when our boy is home.