M&M Cookies
I'm honestly trying to place my fingers on what makes an M&M cookie different than a chocolate chip cookie, and I can't quite do it. I'm not sure if it's actually in the dough or just in my head, but they are definitely distinctly different in my book, and it's not just in the mix-ins. I have always thought chocolate chip to be my favorite, but my feelings may be changing. M&M's definitely make them more cheery and colorful. I'm not sure how you couldn't be happy when looking at (or eating) these cookies!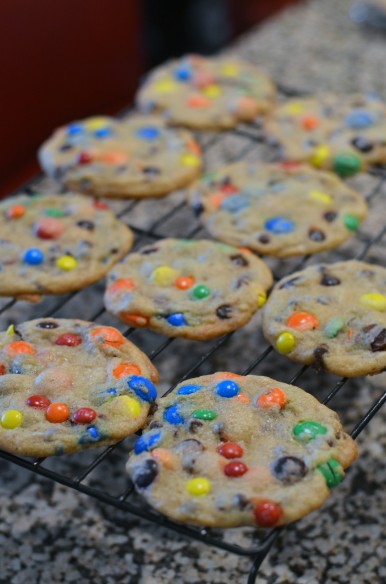 I ended up using a combination of regular sized and mini M&Ms because that's what I had on hand. I mixed about a cup of regular M&Ms into the dough then pressed the minis on top before baking so you'd definitely be able to see them. Personally, I think it made them look even cuter and more visually interesting, but definitely feel free to use your own combination of the two kinds. You could make these really exciting M&M cookies by using special M&Ms, but I wanted to keep these classics.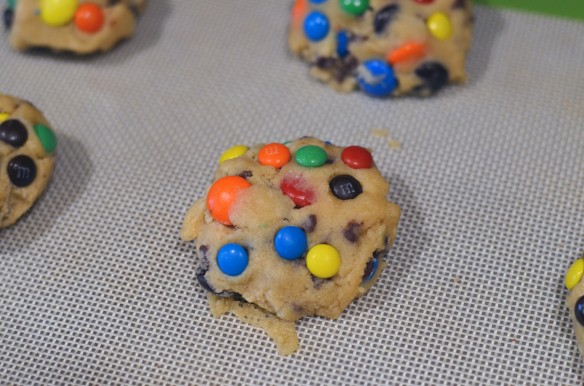 As the original recipe promised, these really are perfect, soft and chewy M&M cookies!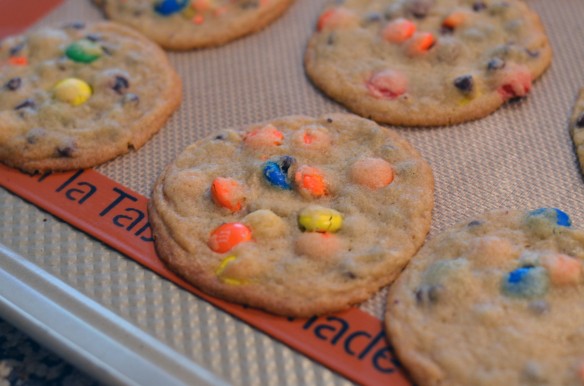 M&M Cookies
yields ~2 dozen
1/2 cup unsalted butter, softened
1/2 cup granulated sugar
1/2 cup brown sugar, packed
1 large egg
1/2 teaspoon vanilla extract
1 1/2 cups all-purpose flour
3 tablespoons instant vanilla pudding mix
1/2 teaspoon baking soda
1/2 teaspoon kosher salt
3/4 cup mini chocolate chips
1 cup M&Ms
1/2 cups M&M minis
Preheat oven to 350º. Line large baking sheets with silicone baking liner or parchment paper.
Cream together the butter and sugars in a large bowl until light and fluffy.
Add in egg and vanilla, continuing to combine.
In a medium bowl, sift flour, pudding mix, baking soda and salt.
Slowly add the dry ingredients to the wet. Mix until just combined.
Fold in chocolate chips and M&Ms.
With a medium cookie scoop, place dough 1 inch apart from each other and bake for 9-11 minutes until edges are browned and centers look slightly under baked.
Let cool on baking sheet for at least 5 minutes before transferring to wire cooling rack.
from Picky Palate