"Nora Ephron" Cookies aka Homemade Soft Nutter Butters
It should come as no surprise that I love my Dahlia Bakery Cookbook. Apparently these peanut butter on peanut butter sandwich cookies (basically a soft and much larger version of a store-bought Nutter Butter cookie) named Nora Ephron cookies after the late rom-com director tasted one while filming Sleepless in Seattle and declared them to be her favorite cookie ever, are one of the most popular and requested recipes from the bakery.
I'd hope to have them made before we left the Seattle area, but alas that didn't happen, and these cookies can serve as a tribute to our time in that fabulous city.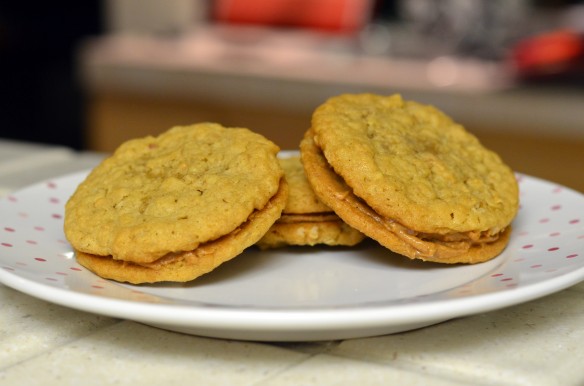 What's even cooler is that our friends gave us an autographed copy of this Tom Douglas as a going-away present. Tom Douglas gave a talk at Microsoft (for employees only, boo) and autographed copies of the book a few months back, but Dustin was unable to get there early enough to get one. So our super awesome friends hooked us up before we left, which was super sweet of them. Thanks Rick and Steph!
These cookies are a little indulgent, so make sure you are ready to go run a few laps around the block to make up for all the peanut butter, butter, and sugary goodness. Totally worth it fresh from the oven though.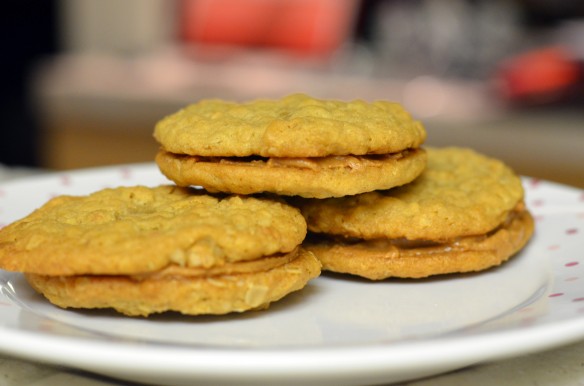 I cut the original recipe down by half, since we really didn't need double digit cookies hanging around the house. We ate a few then froze the rest. Since Dustin won't be taking his treats into the office anymore to share, I'm going to work harder to freeze desserts, so I can bust them out for Dustin when I don't have as much time in school.
Back to cookies. If you love peanut butter, you will love these. My only wonder is how they hold up to Dahlia Bakery's original, as this is not something we tried when we had the chance.
"Nora Ephron" Peanut Butter Sandwich Cookies
yields 9 cookies
Cookies
3/4 cup all-purpose flour
1/2 teaspoon baking soda
1/4 teaspoon baking powder
1/4 teaspoon salt
1/2 + 1/3 cup rolled oats
1/2 cup + 1 tablespoon unsalted butter, room temperature
1/4 cup crunchy natural peanut butter
1/3 cup brown sugar
1/4 + tablespoons granulated sugar
1 large egg, room temperature
1/2 teaspoon vanilla extract
Sift the flour, baking soda, baking powder, and salt into a medium size bowl.
Stir in the oats.
In the bowl of a stand mixer, cream together the butter, peanut butter, and sugars.
Add in the egg and vanilla and mix until smooth, careful not to over-mix.
Use a cookie or ice cream to scoop balls of dough and stagger among two cookie sheets lined with parchment paper or silicone baking mats. Store cookie sheets in fridge for at least 2 hours (in the meantime you can make the filling and also store it in the fridge until you are ready to use it).
Bake cookies at 375º for 12 minutes, rotating the pan halfway through baking.
Allow to cool on the pan for at least 10 minutes before transferring to a cooling rack. Allow to cool thoroughly before adding the filling.
Filling
3/4 cup creamy peanut butter
3 tablespoons unsalted butter
1 tablespoon powdered sugar
1 tablespoon honey
1/2 teaspoon salt
Mix all ingredients thoroughly together in a medium sized bowl with a wooden spoon until smooth.
Scoop just under 2 teaspoons worth of filling on the bottom of half of the cookies.
Top each cookie with filling with another cookie, flat side down and gently press together to create sandwiches.
from Dahlia Bakery Cookbook