Peach Bellinis
We developed quite a fun tradition of hitting one of the local restaurants that opened their bar area on Sunday mornings to watch football. We'd order brunch (though the food was quite mediocre). Dustin would get beer or even a Bloody Mary as he developed a taste for them, and I could get $3 mimosas. It became so engrained in our minds that it almost feels weird not to eat breakfast foods with football.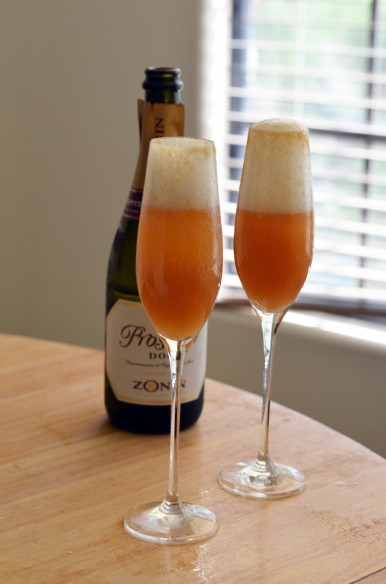 Now that we have DirectTV and the NFL Ticket, we can watch the games at home and make our own delicious foods! Still brunch beverages are our drink of choice. We planned on doing basic mimosas, but since we were stopping by the farmer's market earlier in the morning before the games started and fresh peaches were still in season we called an audible and switched  over to bellinis instead. Our peaches weren't quite as ripe as we would have liked them to be, so the puree was a little thicker and  less juicy than we would have preferred, but we didn't have a lot of time or options to correct this fact and made do.
Thanks to cheap sparkling wine at Trader Joe's, drinking at home with football is much more affordable than doing it out!
Stay tuned as Dustin attempts to tackle Bloody Mary's, but you can be assured that I will not be partaking. Everything about them just seems weird to me!
Peach Bellinis
4 white peaches, skins removed*
1/2 lemon, juiced
2 tablespoons granulated sugar
1 bottle sparkling wine
Process the peaches, lemon juice, and sugar together in a food processor until a smooth puree forms.
Press peach puree through a strainer.
Fill champagne flute 1/3 of the way with peach puree then top with sparkling wine.
* We actually made our bellini skin-on, but in the future will remove the skins  to make them a little smoother.