Roasted Banana Bread
I've become slightly obsessed with roasting fruits and vegetables even though it's super hot here. Roasting just enhances the flavor and makes your kitchen smell so good. Worth having to deal with a hot oven. I kept the flavors of this banana bread super simple (usually I like to add cinnamon and all kinds of spices or brown the butter or something along those lines), so you can really focus on the roasted banana flavor. But of course you need some nuts for crunch!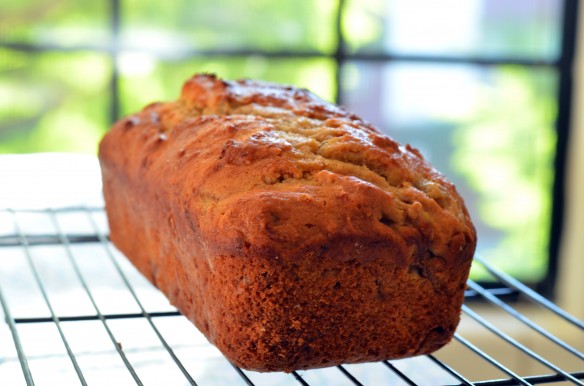 I accidentally slightly over-baked the bread (still getting used to the new oven and I didn't have any toothpicks, so I was kind of guessing on time), so it wasn't quite as moist as I would have liked, but we compensated by adding a little melted butter to the top of warmed slices when we ate them for breakfast. Melted butter makes everything better!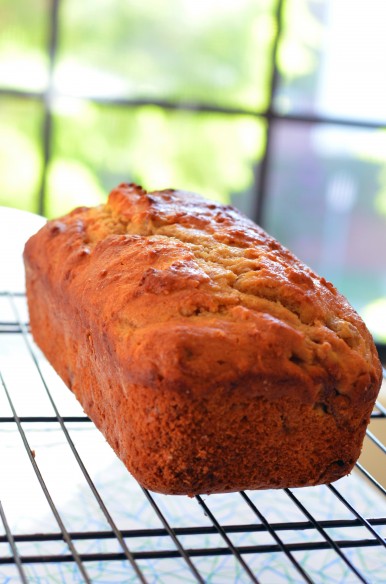 Roasted Banana Breads
yields 1 9"x5" loaf
2 bananas, ripe
1/4 cup butter, room temperature
2/3 cup granulated sugar
2 eggs
1 cup vanilla Greek yogurt
1 teaspoon vanilla extract
3/4 cup all-purpose flour
3/4 cup whole wheat pastry flour
1 teaspoon salt
1/2 teaspoon baking powder
1 teaspoon baking soda
1/2 cup walnuts, roughly chopped
Preheat the oven to 350º.
Place bananas, in peel, on an aluminum foil lined baking sheet and place in the oven for 15 minutes, or until the juices are seeping out of the peel.
Allow the bananas to cool thoroughly before peeling and mashing in a small bowl.
While the bananas are roasting, create the batter by creaming together the butter and sugar.
Add in the eggs, one at a time until fully incorporated, followed by the vanilla extract and the yogurt.
Sift together the flours, salt, baking powder, and soda into a medium sized bowl.
Slowly add the dry mixture to the wet mixture, taking care not to over-mix.
Fold in the cooled roasted banana (excess moisture and all) and the walnuts.
Pour into greased and floured 9"x5" loaf.
Bake for approximately 50-55 minutes until the top is golden brown and a toothpick inserted into the middle comes out cleanly.