Strawberry Pop-Tart Froyo
I was originally going to make a Pop-Tart ice cream, and at some point I might, but I decided that froyo would be the better choice because then I could eat it for breakfast.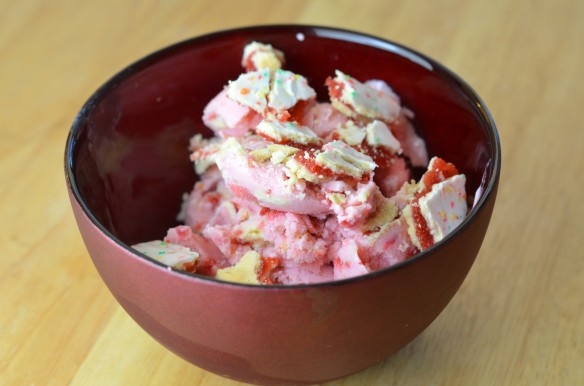 Frozen yogurt for breakfast? But isn't that a dessert. Yes and yes, but if you think about it, it could also be considered a breakfast since all of the ingredients I used are breakfast foods—Greek yogurt, fruit, and Pop-Tarts. I just jazzed them up a bit. I didn't add any extra sugar, so the base isn't too sweet. No worries, the Pop-Tarts make up for that.
Since we've arrived in Los Angeles, Southern California has been in the midst of a heat wave. Like it's almost Texas-summer hot hitting the high 90s. Apparently that's not normal for the area. We definitely have been feeling the heat on our morning runs, as I've begun training for the Tinkerbell Half Marathon through Disney Land, and Dustin is joining me for runs (at least for now). We've been leaving at 7 in the morning (an impressive feat for me if you know me), and by the time we are done 45 minutes later, it is crazy hot. So this is pretty much the perfect protein-packed breakfast to cool me off after a hot run. Genius. Froyo as a vehicle for Pop-Tarts is definitely more exciting (and healthier) than eating a package of toaster pastries alone for breakfast. I only mixed in three Pop-Tarts, and this serves at least 6 people. So it's really like eating half of a Pop-Tart with a side of Greek yogurt and fruit. Not too bad.
Our freezer here was set to super cold, so we had to thaw this froyo out for what felt like forever before it was ready to eat the first time. Since I used non-fat yogurt the texture is a little icy, which can be remedied using a yogurt with fat content. However we didn't mind because the flavor was killer. A happy, sweet, and cold way to start a hot day!
Strawberry Pop-Tart Froyo
yields ~3 1/2 cups
1 1/2 cups strawberries, sliced
2 small or 1 large banana, mashed
3 cups nonfat Greek yogurt (I used 2 cups vanilla and 1 cup strawberry)
3 frosted strawberry Pop-Tarts, roughly chopped
In a large bowl, crush 1 cup of strawberries until juices are released and you only have small chunks of strawberries remaining.
Add in mashed bananas.
Stir in yogurt until mashed fruit and juices are evenly distributed throughout.
Churn the yogurt in an ice cream maker according to manufacturer's instructions for about 10 minutes before adding the Pop-Tart pieces. Churn for another 3-4 minutes or until the ice cream maker begins to struggle.
Transfer to a freezer-safe container and freeze overnight.