Brown Butter Pumpkin Waffles
The first time I ever went to Trader Joe's (back on our road trip to Minnesota in the summer of 2010), I bought cat cookies and a box of pumpkin pancake and waffle mix to bring back to Texas with me. I savored and nursed that box of mix for months before sadly, I ran out. These were the days just before I started making most everything from scratch, and if I had known how easy it was to make my own pancakes and waffles sans mix, I would have been doing it long ago. With pumpkin and all of its accompanying spices being some of my favorite flavors, it's really surprising that I haven't yet attempted my own pumpkin pancakes or waffles. A quick search of the blog revealed to me that I indeed had never incorporated pumpkin in such a way, and I knew that had to be changed ASAP.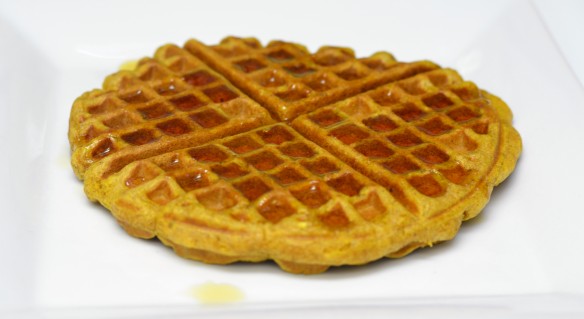 I also realized that I haven't made anything with brown butter in it a for awhile (would have been good in these blondies). Brown butter makes baked goods, especially those with the flavors of fall, extra tasty because of the added nuttiness. Some chopped pecans would be an excellent addition to the batter, but completely optional.
Normally I'd use buttermilk to make waffles, but I had none on hand (nor plain milk to make cheater buttermilk), so instead I used Greek yogurt. With all of the other flavors going on inside of these waffles, you won't notice any taste difference, and I'd say the texture is just as good as any waffles we've made at home. Even better than TJ's mix, since they are made with love!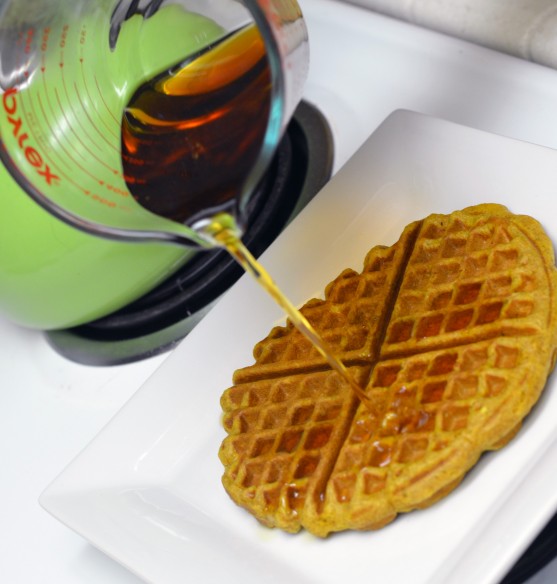 Brown Butter Pumpkin Waffles
1 1/4 cups all-purpose flour
1/4 cup light brown sugar
2 teaspoons baking powder
1/2 teaspoon baking soda
1/4 teaspoon salt
2 teaspoons pumpkin pie spice
1/2 teaspoon cinnamon
4 tablespoons unsalted, cooled browned butter (melt butter over medium heat for about 5 minutes until there are brown specks, and it smells nutty)
2/3 cup pumpkin puree
1/3 cup plain Greek yogurt
2 eggs, divided
1 teaspoon vanilla extract
maple syrup, for topping
Combine the flour, sugar, baking powder, soda, salt, and spices in a medium bowl.
Combine browned butter, pumpkin, yogurt, egg yolks, and vanilla in large bowl.
Slowly add the dry ingredients to the wet ingredients until barely mixed.
In a small bowl, whip the egg whites until foamy.
Fold the egg whites into the batter.
Heat waffle iron and cook on medium heat for about 3 minutes.
Serve with warm maple syrup.