Candy Corn Oreo Blondies
I don't even like candy corn, but I'm a sucker for any limited edition holiday products, which is what prompted this impulse buy walking through City Target. I had no idea what I was going to do with them, but I knew I would bake something extra delicious. I don't think these Oreos taste like candy corn, and neither does Dustin. However, they do have a similar super sweet nature to them, which both of us found delicious and addictive. I used 1/3 of the bag in these blondies, but we just ate the rest of the bag straight (a rarity in this house of home-baked goods... we have become dessert snobs), and each time we ate them we commented how good they were. Way better than standard golden Oreos.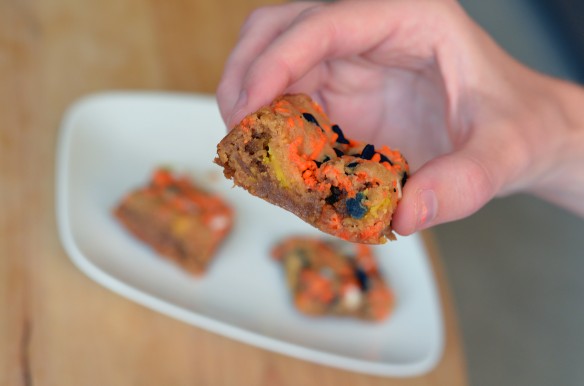 I tasted one of the Oreos before deciding that the flavor profile would pair well with blondies. Plus blondies are easy, one bowl desserts, for which I had all of the ingredients on hand in the pantry. I made these as a welcome home treat for D when he got off the plane from San Antonio and took the rest to a lab meeting the following day (the first time I've baked for my new colleagues...I was a little nervous to make a good first baking impression). These were a big hit at the lab meeting, and I got lots of compliments and think I made a few new friends! I was asked what I put into them to get some yummy, sugary goodness. They truly are dense, rich little squares of sugary heaven! I guess you can't go wrong with lots of butter and sugar (and candy corn Oreos)!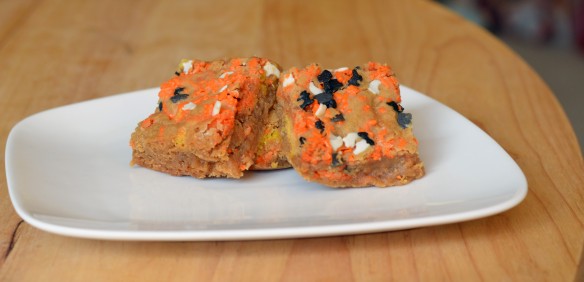 Go buy these from Target before they are gone! It is seriously taking all of my self control not to go back and buy another bag, but I think one per season is enough!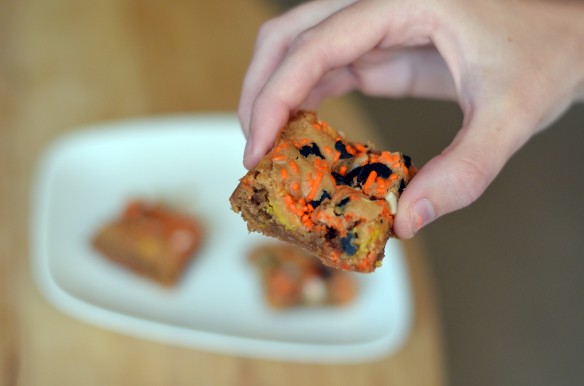 Candy Corn Oreo Blondies
yields 1 8"x8" pan
1/2 cup unsalted butter, melted
1 cup dark brown sugar, tightly packed
1 large egg
2 teaspoons vanilla extract
1 cup all-purpose flour
1/4 teaspoon salt
10 candy corn Oreos, coarsely crushed
Halloween sprinkles, for topping (optional)
Preheat the oven to 350º. Line an 8"x8" baking pan with aluminum foil (allowing foil to hang over two of the sides) and coat with non-stick spray.
Mix the butter and sugar together in a medium bowl until smooth.
Add in the egg and the vanilla extract, continuing to mix.
Add in the flour and the salt and mix until flour is just incorporated.
Pour about half of the blondie batter into the pan and spread around the bottom (it will be very thick).
Sprinkle Oreo pieces over the top of the batter.
Cover Oreo pieces with the remaining batter and spread on top. Cover with sprinkles.
Bake for approximately 25 minutes.
Allow to cool completely before removing from pan and cutting into squares.