Connie and Ted's
Connie and Ted's is a newly opened New England-style seafood (upscale) shack in the heart of West Hollywood. In the few months that is has been opened, you have to book dinner reservations weeks in advance if you want to eat your dinner at a reasonable time— say between 5 and 10pm. They are open for lunch Friday-Sunday, so when I was browsing OpenTable and came across a random lunch reservation, I took it. It turns out you probably don't need a reservation if you are going to show up for lunch at Connie and Ted's at 1:30, but given that with traffic it takes at least half an hour to get from our place to the restaurant, I'd always want a reservation just in case it was crazy crowded for some reason, and you couldn't get a table. I wouldn't want all that drive to have been for naught. Plus, you still might have to wait for a table, and waiting after a long car drive isn't much fun either.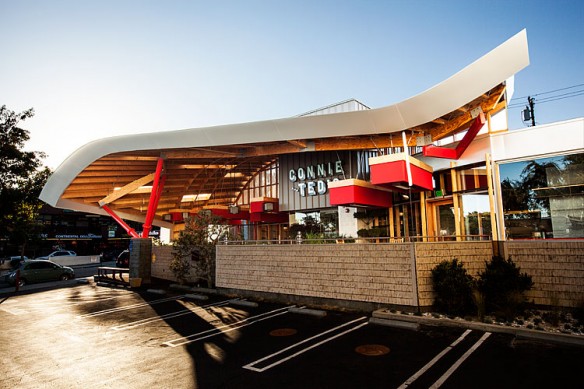 The interior of the restaurant is clean, modern, and quite spacious. This meal is an instance where we weren't packed in with people sitting on top of us, which was a refreshing change of pace.
The menu consists of all sorts of seafood options, flown in freshly from both coasts. They have a large selection of raw oysters (including some from Washington), which we didn't try since we are still fresh off of an experience at The Walrus and Carpenter and aren't really craving them yet, but I'm sure we eventually will.
We started out splitting a sampler of their clam chowders. The trio of chowders named 'Jo's Wicked Good Chowda' is served on a cute little board. You get a small serving of New England, Manhattan, and Rhode Island clear. I'd never tried Manhattan (tomato base broth) or the clear (I had never even heard of it, in fact), and both were really good; however, I think the New England was probably my favorite, as it's hard to go wrong with a cream base! What was great about these chowders compared to what you get at many places was that, lo and behold, you actually get clams (lots of it), not just broth and potatoes, made even more impressive considering each chowder was served in a tiny cup.
For our entrees, I got the lobster roll and Dustin got the fried clams (with bellies). Both dishes came with a massive pile of fries, which were good but nothing special. The seafood itself, however, was quite tasty. Dustin's clams were nicely breaded and fried  and served with an outstanding tartar sauce. My lobster was simple and classic (coming with a good portion of lobster unlike at Son of  a Gun). I ordered it hot with butter (instead of cold with mayo, which is good, but hides some of the lobster in my opinion). It was served on an interesting hybrid Texas toast-hot dog bun. It folded in half with a crease, just like a hot dog bun, but the sides were like thick, buttery toast.
For dessert we ordered the blondie with salted caramel and a scoop of vanilla ice cream. It was moist, dense, and super rich. The portion was also enormous, and sadly enough for our waistlines, we ate way too much of it. We were so full when we walked out of Connie and Ted's we didn't eat dinner that night!
I will definitely go back to Connie and Ted's and recommend it to anyone craving New England-style seafood; however it is a decent drive from where we live (not mileage-wise, but traffic wise—perception of how far away something is changes drastically live in LA thanks to traffic), so it probably won't be a regular stop for us.