Pumpkin Peanut Butter Dog Treats
Bonnie's birthday was a few weeks ago, and the lucky puppy had a great day! The big 3 happened to fall on a day where I didn't have classes and since Dustin is working from home, we were both able to spend all day together with the birthday girl. For Bonnie, a day at home together meant lots of cuddles, a trip to the dog park, leftover steak for dinner, and homemade puppy treats!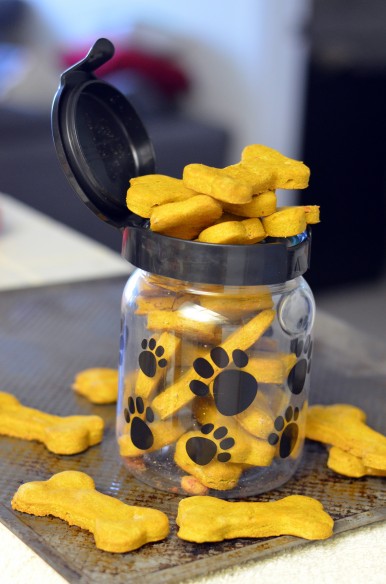 Since it is October and pumpkin season, I used pumpkin in addition to one of her favorite foods— peanut butter— loosely based off a common recipe I saw floating around the internet in many places.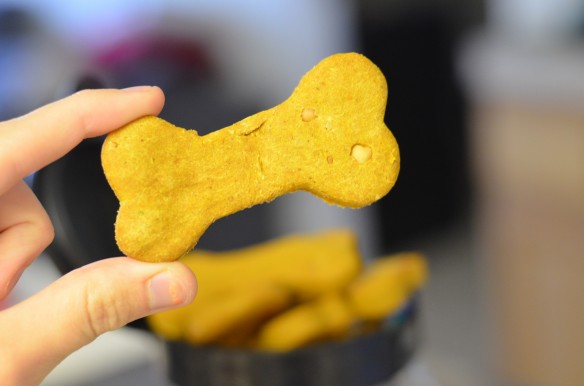 It took a bit to get all of the flour incorporated into the wet mixture, but the dough was the perfect texture and not at all sticky. It made for perfect looking bone cookies coming out of the oven. Bonnie seemed to know I was making something special for her. She almost always hangs out at my feet when I'm in the kitchen, but usually she naps while I bake. While I was making the dough for these, she was completely focused on me, begging. I think she saw (or smelled) me get the jar of peanut butter out of the cabinet. The bones took awhile to bake to get hard and then cooled, but she seemed pretty happy when she finally got to taste them!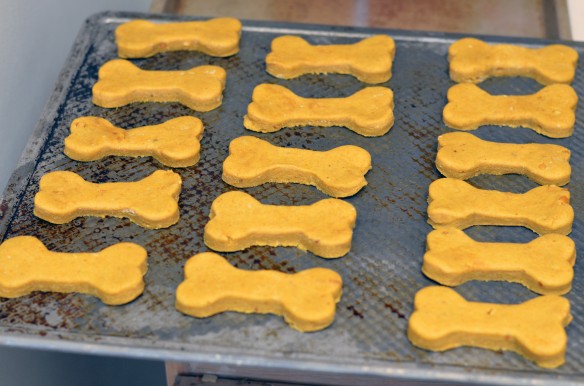 I like baking for my dog. I always tell Dustin if I ever open a bakery, I'd make doggy treats and sell desserts for both humans and  their best friends. I'd also welcome dogs into the bakery with open arms (assuming the health inspectors would allow it)!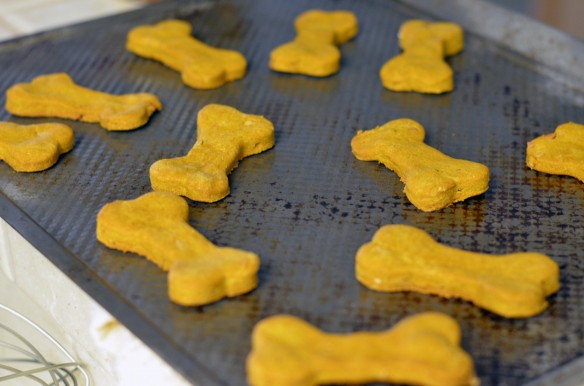 Pumpkin Peanut Butter Dog Treats
yields ~2 dozen treats, depending on size of cookie cutter
2 1/2 cups whole wheat flour
3/4 cup pumpkin puree
2 eggs
1/4 cup peanut butter
1/2 teaspoon cinnamon
pinch of water, if needed
Preheat the oven to 350º. Line baking sheet with parchment paper or silicone baking mat.
Combine all ingredients (except water, unless needed) in a large bowl with a wooden spoon until all of the flour is incorporated. Towards the end of mixing, you may need to use your hands.
Roll out the dough to 1/2" on a lightly floured work surface. Use a cookie cutter to cut out cookies (I used only a bone, slightly smaller than the size of those large Milkbone treats).
Place on baking sheet (they can be placed very close together since they don't spread, so I only needed one pan).
Bake for 40 minutes. Turn off and crack the oven door, letting the treats cool in the oven for an hour. This steps allows the cookies to harden like typical dog treats.