Salted Caramel Stuffed Chocolate Chip Cookies
I've been on a bit of a cookie binge lately. Right before school started, our incoming class of students threw together an impromptu BBQ to get everyone together and be social. I wanted to make a good first (baking) impression on my classmates, so I wanted to bring a couple of different homemade cookies for everyone to nosh on, the first of which were these salted caramel stuffed chocolate chip cookies.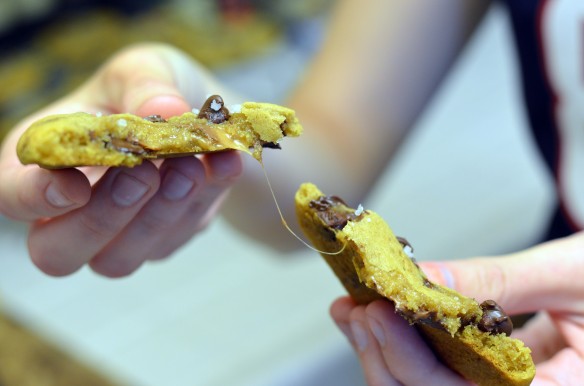 Salt, caramel, and chocolate work together so well and feel especially appropriate for fall. The cookies are soft in the middle while the edges get slightly crisp, and the caramel candies melt in the middle for a gooey little surprise when you bite in. We tried to capture it in picture form with only limited success, but nonetheless everyone was pleasantly surprised with what they found!
I am happy to report that my cookies were consumed before the majority of the store bought cookies, also sitting on the table, meaning my colleagues must have good taste! These cookies definitely got me lots of compliments, and by the time we were ready to leave (early I might add), there was only one left. The sad last cookie problem. Nobody wants to be the person taking the last cookie!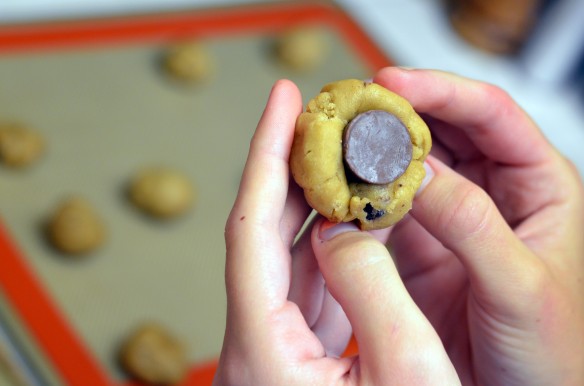 Salted Caramel Stuffed Chocolate Chip Cookies
yields ~ 1 1/2 dozen
2 cups all-purpose flour
2 teaspoons cornstarch
1 1/2 teaspoons baking soda
3/4 teaspoon salt
3/4 cup unsalted butter, room temperature
3/4 cup brown sugar, tightly packed
1/4 cup granulated sugar
1 egg + 1 yolk, room temperature
1 1/2 teaspoons vanilla extract
1 cup chocolate chips
18 Rolo candies, unwrapped
coarse salt, for sprinkling
In a medium bowl, combine the flour, cornstarch, baking soda, and salt.
In a large bowl, cream together the butter and sugars until light and fluffy.
Add in the egg and yolk and mix until combined. Stir in the vanilla.
Fold in the chocolate chips (reserving a few for pressing on the tops).
Chill the dough for at least two hours or preferably overnight.
Line three baking sheets with silicone baking mats and preheat the oven to 350°.
Divide the dough into 36 small balls of dough. Use your finger to make an impression in one of the balls, place the Rolo candy inside and cover with another ball of dough.
Place the new large ball of dough on the cookie sheet and flatten slightly (6 to a sheet). Press a few additional chocolate chips on the top. Keep any dough not being used immediately in the fridge.
Bake for 11-12 minutes or until cookies look just under baked. Remove from the oven and sprinkle with salt.
Allow to cool on the pan for 10 minutes before transferring to a wire cooling rack to completely cool.