The Wafoodie Mary
I never used to be a Bloody Mary fan. During last year's football season, I gave it another shot and ordered a Meat Mary at The Tap House. A Bloody Mary with Bakon Vodka and a half submerged crispy piece of bacon came out to greet me. And, for the first time in my life I liked it. I don't think it was the bacon, although that certainly helped. I think I just had the tomato wake-up juice enough times for it to finally grow on me.
Erin hates them. The tomato juice is an instant killer for her. Add spices, pepper, and a stalk of celery, and you are not making an drink she will even taste. She'll stick with her mimosas for football brunch. But me, now, I'm a Bloody Mary man.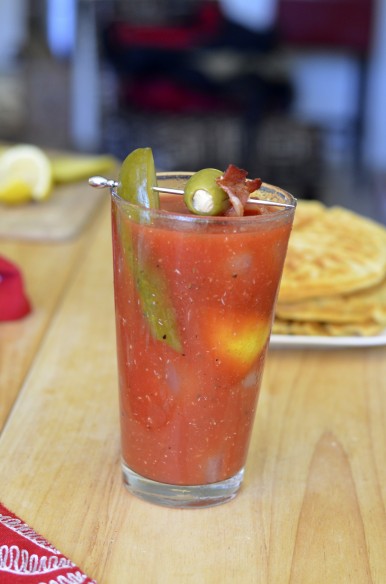 So when football season rolled around this year, I set out to create my new found cocktail. Looking over the grocery list I had scribbled up, you would have thought I was cooking a three course dinner. The shear amount of ingredients that go into this drink are a testament to the vast number of recipes and variations suggested online. Here goes the method I've used lately and have been extremely pleased with.
The Wafoodie Mary
1 tsp celery salt
1 tsp fresh ground pepper
1 1/2 tsp Frank's hot sauce
3 dashes Worcestershire sauce
1/2 lime, juiced
1/2 lemon, juiced
4 oz tomato juice
3 oz vodka
1 tsp Dried dill
1 tbsp horseradish
Ice
1 kosher pickle
1 blue cheese stuffed olive
1 slice crispy bacon
Combine celery salt, pepper, Frank's, Worcestershire sauce, lime juice, lemon juice, tomato juice, vodka, dill, and horseradish in a cocktail shaker.
Optionally, toss in the squeezed lemon and lime.
Fill shaker with ice. Pour contents of shaker into pint glass back and forth 4 or 5 times.
Pour drink into pint glass and garnish with pickle, olive, and bacon on a cocktail skewer.