Apple Pie Pancakes with Apple Cider Syrup
I've mostly been on a waffle kick lately, so I think it's time that pancakes received some love and attention. Pumpkins have also been getting a lot of press around here, so I instead went with the other quintessential flavor of fall, apples.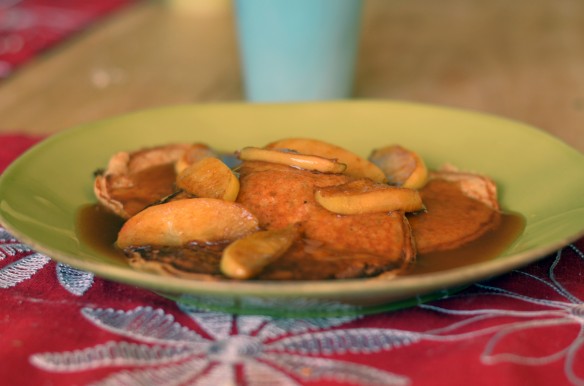 Lately, lazy weekend mornings have become our thing. After busy weeks, it's nice to sleep in until 9, cuddle the puppy, then make a sweet and tasty breakfast. We have good intentions of getting up early and going for a run, or running errands and brunching out, but lately it seems more often than not we opt out of exercising or exploring our new city and lounge instead.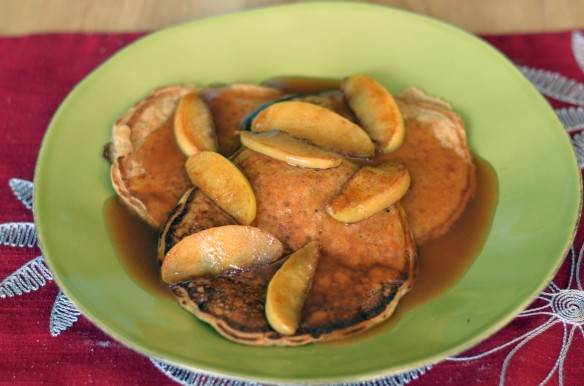 The syrup recipe makes way more than you need for 3 people, so you should definitely bottle it up and save it for later. I totally forgot to and am kicking myself for not being more careful, especially now that I'm writing this and remembering how delicious it was. This counts as health food because there are apples in it, right?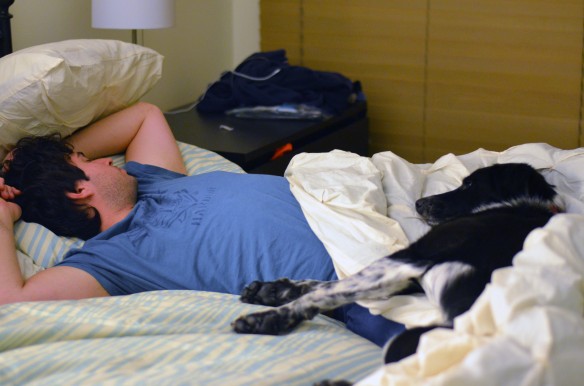 Apple Pie Pancakes with Apple Cider Syrup
serves 3
Pancakes
1 cup all-purpose flour
2 tablespoons light brown sugar, packed
2 teaspoons baking powder
2 teaspoons cinnamon
1/2 teaspoon nutmeg
1/2 teaspoon clove
1/8 teaspoon salt
1 cup milk (I used fat-free)
1 large egg
1 teaspoon vanilla extract
2 tablespoons unsalted butter, melted and cooled
1 medium Pink Lady apple
Preheat griddle to medium high heat and spray with non-stick cooking spray.
In a small bowl, mix together the flour, sugar, baking powder, and spices.
In a medium sized bowl, mix together the milk, egg, vanilla extract, and butter.
Slowly add the dry mixture to the wet mixture until just combined.
Grate the apple into the mixture and fold in.
Ladle the pancake batter onto the griddle and cook until you see bubbles forming around the edges, then flip.
Cook until golden brown. Serve warm with syrup and topping.
Syrup
1 cup apple cider
3/4 cup granulated sugar
1/2 lemon, juiced
1 tablespoon cornstarch
1 tablespoon unsalted butter
1/2 teaspoon vanilla extract
In a medium saucepan, combine the apple cider, sugar, lemon juice, and cornstarch over medium-high heat, stirring until the sugar is dissolved.
Bring the mixture to a boil then reduce to a simmer, cooking for 10-15 minutes until sauce thickens.
Stir in butter and vanilla. Keep on low heat until ready to use.
Topping
1 medium Pink Lady apple, sliced
2 tablespoons unsalted butter
1 tablespoon granulated sugar
1 teaspoon cinnamon
In a small sauce pan, cook the apples in butter over medium heat until soft.
Sprinkle with sugar and cinnamon and cook for 2-3 minutes before adding to top of pancakes.
pancakes slightly adapted from Pancakes by Adriana Adarme