Blueberry Bread
Banana bread is the most common quick bread around, but you very rarely see other bread recipes made with mashed fruit. Instead, you usually find chunks of fruit. But that's not what I envisioned when I set out to make this bread. I basically wanted to make banana bread, but instead of using mashed bananas, I used crushed blueberry to create a chunky puree to mix throughout the bread. Kind of like blueberry muffins made banana bread style. Usually when you make blueberry muffins, you toss your berries with flour so you don't end up with blue streaks throughout your bread, however I fully wanted and intended to make a blue tinted bread.
Substitute more butter or another oil for the coconut oil if that's not a pantry staple for you, but I've really been enjoying it in my baked goods lately. My bread ended up a little underbaked in the middle because I pulled it out early. A darn toothpick tricked me into thinking it was ready, and I wanted to be sure the bread didn't dry out. I ended up with a slightly collapsed loaf of bread, but if you don't make my mistake, yours won't be subject to looking like it was stepped on!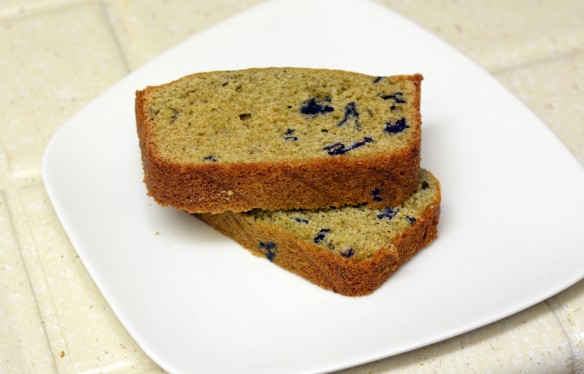 This bread was a fun little (super easy) experiment that I think could be made more fun with another fruit, say raspberries or blackberries. This bread was quite good, but still not as good as the perfect blueberry muffins, which I now consider a Holy Grail of sorts, so any blueberry breakfast pastry I taste faces stiff competition. Speaking of those muffins, I feel like I should make those again and experiment with a streusel toppings...
Make any leftovers of this bread into tasty ice cream!
Blueberry Bread
yields 1 9"x5"loaf
1/4 cup unsalted butter, melted
1/4 cup coconut oil, melted
3/4 cup granulated sugar
1 1/2 cups all-purpose flour
1/2 teaspoon baking soda
1/2 teaspoon salt
1 pint blueberries, crushed into a thick puree
Preheat the oven to 350º. Spray a 9"x5" loaf pan with cooking spray.
In a large bowl, mix together the butter, coconut oil, and sugar.
In a medium bowl, sift together the flour, baking soda, and salt.
Slowly add the dry mixture to the wet mixture.
Stir in the crushed blueberry puree.
Pour into pan and bake for about 45-50 minutes or until a toothpick inserted into the center comes out cleanly.
Allow to cool in the pan for an hour, loosening the sides with a knife, before removing from the pan.