Buffalo Chicken Macaroni & Cheese
In keeping with our recent obsession of buffalo wings and blue cheese, here is a fun variation that incorporates those delicious flavors into a macaroni and cheese. As you might expect from anything titled macaroni and cheese, it was delicious— perfect for an evening of watching Monday Night Football after a long day of school. We poached and shredded some chicken earlier in the day to speed up the food making process, but you could even use rotisserie chicken from the grocery store for a majorly easy cheat.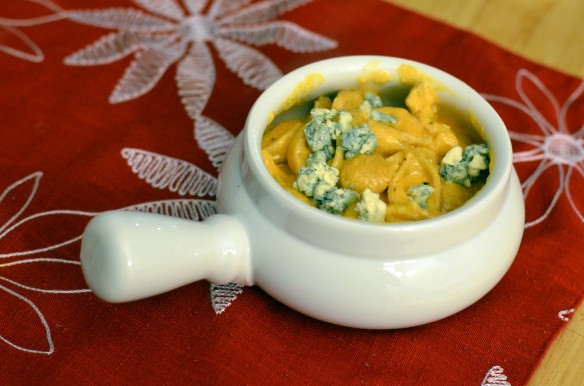 I've pretty much gone to just making stovetop mac 'n' cheese. I think I prefer the texture of the noodles without the added step of baking, plus it saves time. If you are a big fan of a crunchy topping, you could finish it off in the oven topped with some breadcrumbs, but we felt this buffalo chicken macaroni and cheese was pretty much perfect, as is. We think you'll agree!
Reliving this meal has me questioning, what "buffalo chicken" dish should we create next?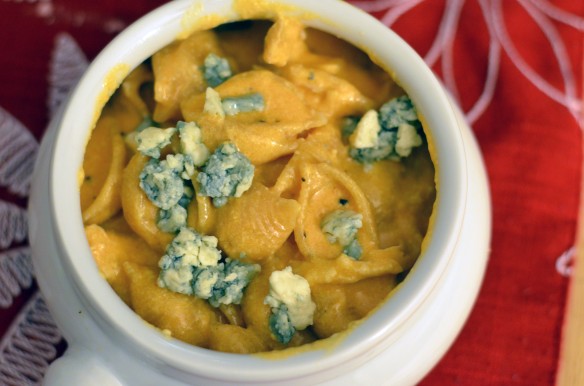 Buffalo Chicken Macaroni & Cheese
serves 2-3
2 tablespoons unsalted butter
1/2 yellow onion, chopped
2 cloves garlic, chopped
2 tablespoons all-purpose flour
1 1/4 cups milk
1/2 cup sharp cheddar cheese, shredded
1/4 cup blue cheese + more for sprinkling
1/4 cup parmesan cheese, shredded
1/2 cup hot sauce
salt, to taste
pepper, to taste
1 cup chicken, shredded
3 cups whole wheat pasta shells
Bring a large pot of water to a boil. Cook pasta shells until al dente while making the sauce.
Melt the butter in a large deep dish skillet over medium heat.
Add in the onions and cook until translucent. Add in the garlic and cook until fragrant.
Add in the flour and toast for several minutes.
Pour in the milk, stirring constantly and cook for about 15 minutes or until sauce thickens.
Stir in cheeses and hot sauce. Season with salt and pepper.
Add in the chicken and drained pasta shells to the cheese sauce and cook on low for several minutes.
Top with additional blue cheese crumbles and serve warm.