Butternut Squash Spaghetti
Not to be confused with spaghetti squash, this is legit homemade spaghetti with a thick and creamy butternut squash sauce coating each strand. We were browsing a specialty food mart when I saw a butternut squash pasta sauce sitting on the shelf. I was tempted to buy it, but why buy something like that (at a ridiculously high premium, I might add) when I can make it myself?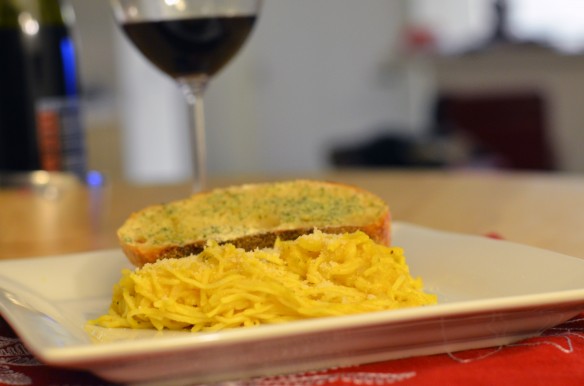 This pasta was intended to be the butternut squash equivalent of marinara sauce, except with squash replacing the tomatoes, and I fully intended for that to be the title. Then however, Dustin pointed out the play on words with butternut squash, and we couldn't resist changing the name.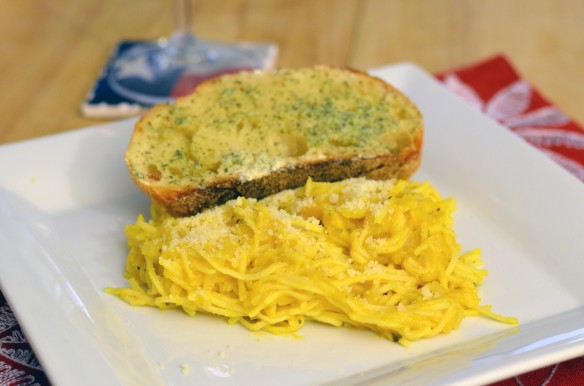 This dish comes together pretty easily, is healthy, and is all of the best flavors of fall rolled into one meal!
Butternut Squash Spaghetti
2 small butternut squash, peeled and cubed
1 cup fat free milk + more if necessary
2 tablespoons olive oil
1/2 large yellow onion, diced
2 cloves garlic, crushed
1/2 cup parmesan cheese, shredded + more for sprinkling
1 teaspoon chile powder
2 teaspoons dried sage
salt, to taste
pepper, to taste
1 recipe homemade pasta dough, prepared or 1 16-ounce package of store-bought spaghetti
Bring a large pot of water to boil and cook the butternut squash for 15-20 minutes until flesh is soft.
Drain the squash then transfer to a bowl with about 1/2 cup of milk and blend with an immersion blender until smooth. Set aside.
Clean pot, fill with water and bring to boil again. Cook spaghetti until al dente. If using homemade spaghetti, this process will literally only take a minute or two, so you shouldn't actually begin cooking the pasta until the sauce is finished.
Heat the olive oil in a large pan over medium heat. Cook the onions for about 5 minutes until translucent. Add in the garlic and cook for another 2 minutes until fragrant.
Add the butternut squash puree to the pan along with remaining milk.
Stir in the cheese and spices, to taste.
Add more milk if thinner sauce consistency is desired.
Add in cooked spaghetti and toss to goat.
Garnish with additional parmesan.