Cinnamon Roll Pancakes
Dustin's been complaining that I've dropped the ball with cooking and baking lately. It's true. With our trip to Texas and my trip to Toronto and then being completely overwhelmed playing catch-up (and thus eating lots of take-out and Trader Joe's), I haven't really been in the kitchen for two weeks. But I made it up to him this weekend with cinnamon roll pancakes.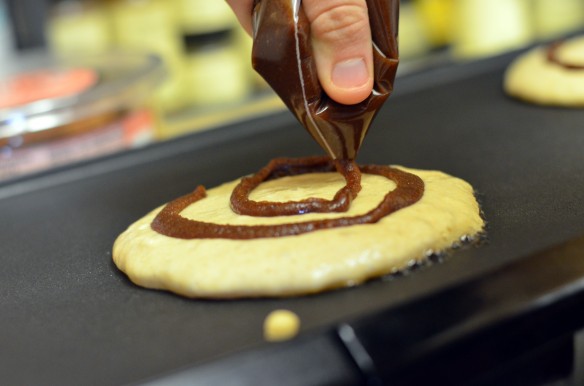 They are just basic buttermilk pancakes amped up with a thick cinnamon sugar swirl like the filling from a cinnamon roll. Then they're covered in a rich cream cheese glaze. I remember seeing these on Pinterest repinned again and again probably over a year ago, when I finally decided to make them for brunch yesterday.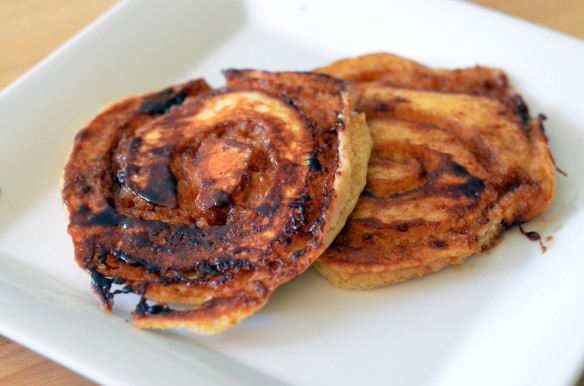 They are pretty faithful in flavor to an actual cinnamon roll, but the tops get slightly crunchy from the sugar caramelizing which gives them a unique texture.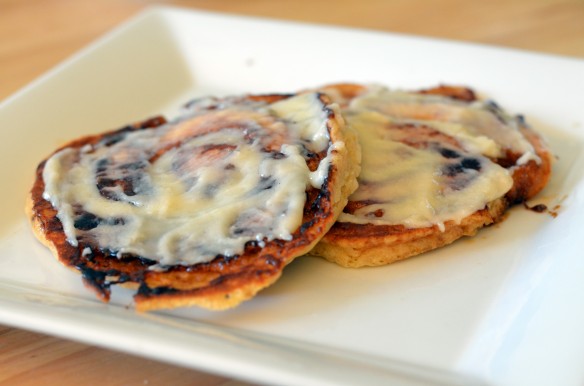 Not the easiest pancakes to whip up, but certainly not difficult. And they are way easier than making the real deal cinnamon rolls.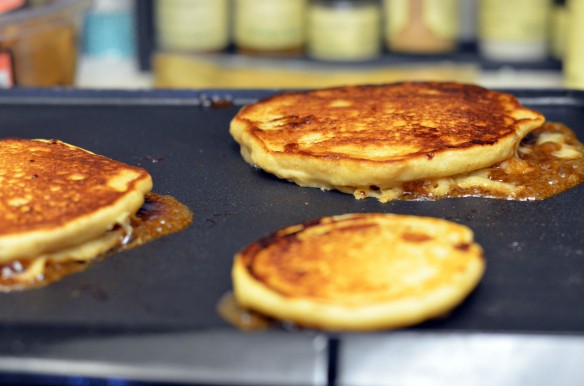 Cinnamon Roll Pancakes
yields ~6-7  pancakes
Pancake
1 cup whole wheat pastry flour
2 tablespoons granulated sugar
1/2 teaspoon salt
2 teaspoons baking powder
1 egg
1 tablespoon coconut oil, melted (other oil may be substituted)
1 cup buttermilk
1 teaspoon vanilla
1 recipe of cinnamon filling (see below)
1 recipe of cream cheese glaze (see below)
Combine the flour, sugar, salt, and baking powder together in a large bowl.
Create a well in the center then add the egg and coconut oil, followed slowly by the buttermilk, incorporating the wet ingredients into the dry ingredients until the wet ingredients are just moistened, but do not overmix.
Stir in the vanilla.
Heat a non-stick griddle or pan to medium heat, and ladle batter onto the surface.
Allow bubbles to form, and about 30 seconds before you are ready to flip the pancake squeeze the cinnamon filling in a spiral shape on the top of each pancake (don't let the filling get too close to the edge).
Flip the pancakes and cook until golden brown, and the side with the cinnamon swirl has caramelized and becomes slightly crunchy.
Drizzle (or smear) cream cheese glaze on top of pancakes.
Filling
3 tablespoons unsalted butter, melted
2/3 cup brown sugar, packed
1 1/2 teaspoon cinnamon
Combine the butter, brown sugar, and cinnamon together in a small bowl and mix until smooth.
Transfer to a heavy duty plastic bag then cut off the tip when ready to use.
Glaze
3 tablespoons unsalted butter
1 1/2 tablespoons cream cheese, softened
3/4 cup powdered sugar
1/2 teaspoon vanilla
In a small pot over medium heat, melt the butter.
Stir in the cream cheese until smooth.
Sift in the powedered sugar and stir until combined.
Remove from heat and stir in vanilla.
Adapted from Recipe Girl