Homemade Pumpkin Gnocchi with Brown Butter Gorgonzola Sauce
This recipe is a testament to frugality with all of the ingredients because it comes from things we typically have in the pantry or what we had lingering around, leftover from other dishes. Gorgonzola from the buffalo chicken macaroni and cheese and an open half-used can of pumpkin in the fridge from the biscotti (although I pretty much have a can of pumpkin the pantry year round, so I'd consider it a pantry staple).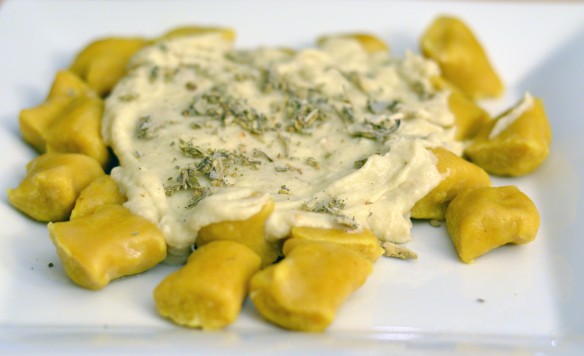 I was a little worried Dustin wouldn't want to eat this meal (he gets a little pumpkin-ed out this time of year), and I definitely offered going out several times, thinking I could eat this meal when he left for San Antonio. But he said he would eat it, and I don't think he was disappointed in the end (thanks for indulging me and my love for pumpkin, D). Brown butter and gorgonzola complement the pumpkin, and topped with sage, this is an impressively delicious dish. Somewhat surprisingly, this gnocchi is really, really easy to make and comes together without any hassle.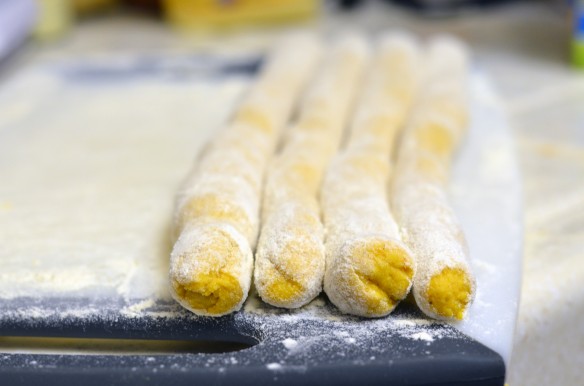 I'm actually incredibly impressed that I was able to get such a thick and creamy sauce with only skim milk. I definitely think I could have told an eater of this dish that I used cream, and they would have believed me. Of course, there is a little (brown) butter in there to add to the richness!
Pumpkin Gnocchi with Brown Butter Gorgonzola Sauce
serves 2-3
Gnocchi
1 cup pumpkin puree
1 egg
3/4 cup all-purpose flour
3/4 cup semolina flour
1/2 teaspoon nutmeg
1/4 teaspoon salt
Combine all of the ingredients together in a large bowl, working with your hands to form a big ball of dough.
Divide the dough into 3-4 sections. Roll into balls then use your hands to turn the balls into long strings.
Cut the dough every 3/4".
Bring a large pot of water to a boil.
Cook the gnocchi for 3-4 minutes or until the gnocchi is floating on top.
Drain and serve with sauce (recipe below).
Sauce
2 tablespoons unsalted butter
2 tablespoons all-purpose flour
1 1/4 cups milk (I used fat free)
1/3 cup Gorgonzola cheese, crumbled
salt, to taste
white pepper, to taste
dried sage, for topping
Melt two tablespoons of butter in large wide-bodied saucepan over medium heat. Cook the butter until browned and nutty in fragrance.
Remove pan from heat and allow butter cool for several minutes.
Return pan to medium heat and stir in flour, stirring and cooking for another minute or two to form a roux.
Slowly add in the milk, stirring constantly, cooking for about 15 minutes or until the sauce is thick enough to coat the back of a spoon.
Stir in the cheese.
Season with salt and pepper.
Serve over gnocchi and top with sage.