Loaded Baked Potato Soup
I'd been craving a carb loaded baked potato recently, and given the (slightly) cooler days of fall, baked potato soup (with all of the fixins) seemed in order. We went to the farmer's market and got all of the ingredients; however the actual making of the soup kept getting postponed in favor of eating out or other faster meals. Finally, we got it made, and it perfectly satisfied my baked potato craving!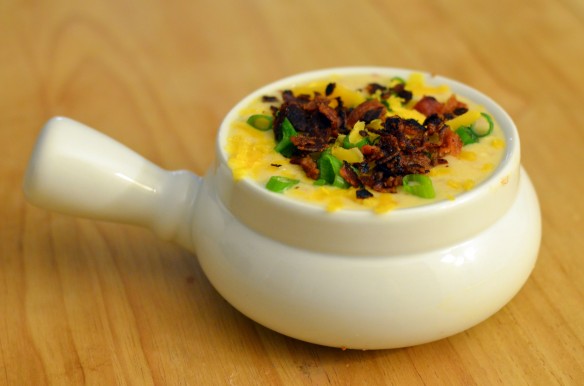 Keeping it short and sweet today— been super busy with traveling to Texas, schoolwork (quiz today!), and a conference in Toronto that I just got back from late last night!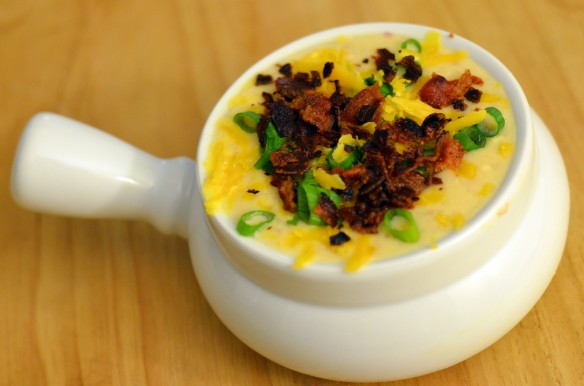 Loaded Baked Potato Soup
serves 3, as a main course
5 medium red potatoes
1 tablespoon olive oil
2 tablespoons all-purpose flour
1 1/4 cups low sodium chicken broth
2 cups low-fat milk
1/2 cup reduced-fat sour cream
1 cup freshly cheddar cheese, shredded + more for sprinkling
1/2 teaspoon salt
1/4 teaspoon freshly ground black pepper
6 bacon slices, cooked and crumbled
2 tablespoons, green onions, thinly sliced
Scrub the potatoes then puncture with a fork. Cook in the microwave for approximately 12 minutes or until tender and cooked throughout.
In a large pot, heat the olive oil over medium heat while cooking the potatoes. Add in the flour and cook for a few minutes to make a roux.
Slowly add in the chicken broth and milk and cook for about 10 minutes, until the soup begins to thicken.
Stir in the sour cream and cheese.
Add in the cooked potatoes. Use an immersion blender until mostly smooth with a few chunks of potato left.
Season with salt and pepper.
Serve and top with additional cheese, crumbled bacon, and green onions.