Mini Pumpkin Biscotti with Maple Glaze
One of the labs on campus has a full kitchen in their workspace. Back in the 1970's, the workspace was an apartment  where researchers used to conduct experiments during which they'd watch people in a "natural habitat," so to speak. Now those kind of experiments don't really get done anymore in psychology, so the lab space was passed on, leaving a retro kitchen for grad students to cook in. My lab and that lab decided to host a joint potluck breakfast one morning in the lab space.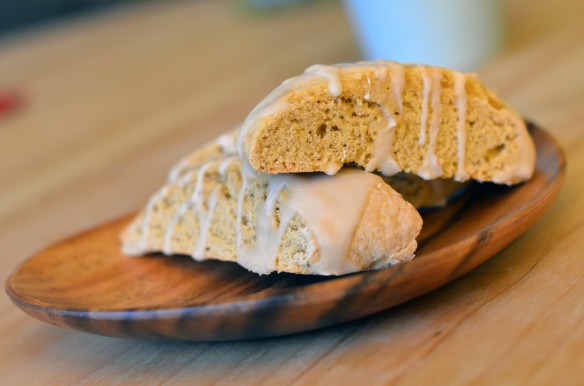 Some of my peers brought in stuff to make omelets and blintzes on the stove there, but I thought I'd make a baked good the night before (even though I could have baked them in the oven on-site). I wanted something breakfast-y, but not muffins or bread. I decided upon biscotti— pumpkin biscotti with a maple glaze— to serve alongside (or dunk in) coffee.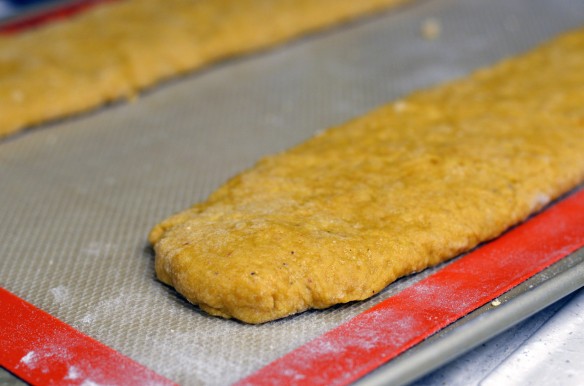 The biscotti didn't get quite as crispy as I was expecting, but I know they burn easily, so I might have pulled them from the oven a little too soon. However, one person told me she thought the texture was perfect— really hard and crunchy on the outside, but slightly soft on the inside.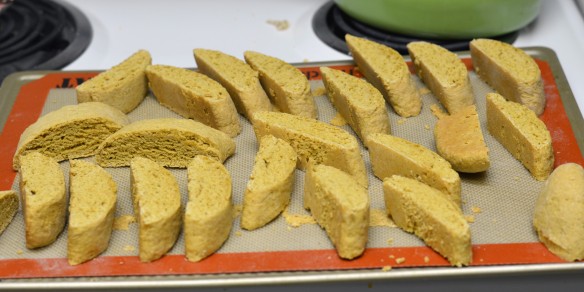 Thanks to Dustin, my sous baker for all of his help! My peers appreciated all of the hard work!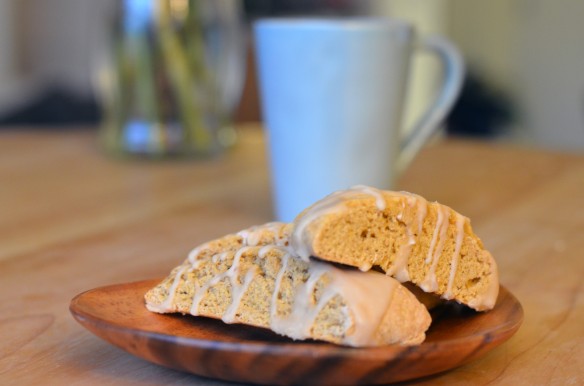 Mini Pumpkin Biscotti with Maple Glaze
yields ~2 dozen
Biscotti
2 1/2 cups all-purpose flour
1 cup granulated sugar
1 teaspoon baking powder
1 1/2 teaspoons cinnamon
pinch of ginger
pinch of cloves
pinch of nutmeg
2 eggs
1/2 cup pumpkin puree
1 teaspoon vanilla extract
Preheat the oven to 350º. Line baking sheet with parchment paper or silicone baking sheet.
Sift the flour, sugar, baking powder, cinnamon, and remaining spices together in a large bowl.
Mix together the eggs, pumpkin puree, and vanilla extract in a separate medium sized bowl.
Add the wet mixture to the dry mixture.
Mix together until a crumbly dough forms.
Using floured hands, knead the dough lightly on a floured baking sheet.
Divide the dough in half and roll into logs that are about 10"x6" long (approximately 1/2" thick).
Lightly score the biscotti diagonally to create 12 biscotti per log.
Bake for 22-25 minutes until the tops are golden and hard to the touch but not burnt.
Remove from the oven and reduce oven heat to 300º. Allow to cool for 10 minutes.
Using a serrated knife, cut along the scores.
Turn the biscotti on their sides and bake for another 10-15 minutes.
Turn off the oven and crack the door, allowing the biscotti to cool inside the oven.
Once cooled remove from the oven. Make sure the biscotti are completely cooled before icing.
Glaze
1/4 cup maple syrup
1 1/2 cups powdered sugar
1/2 teaspoon vanilla extract
1 tablespoon milk
Stir together all of the ingredients until a thick glaze is formed.
Drizzle over the fully cooled biscotti.
biscotti slightly adapted from Simply Recipes