Mint Chocolate Chip Cake
Sorry for the late post today! I'm sure you are dying with anticipation to see my creation for Dustin's birthday. Well, here it is in all it's glory— a mint chocolate chip cake!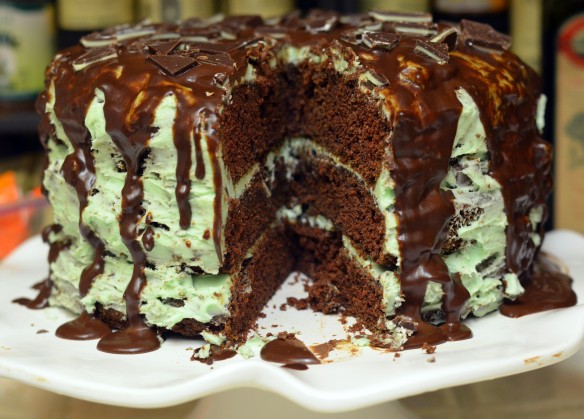 I know Dustin loves mint chocolate chip ice cream, so I decided to turn the flavors into a birthday cake— a three layered chocolate cake frosted with Andes mint buttercream (you could use mint Oreo for a similar effect if you are having trouble locating Andes mints, which turned out to be more difficult than I initially expected) topped with chocolate ganache and even more Andes mints.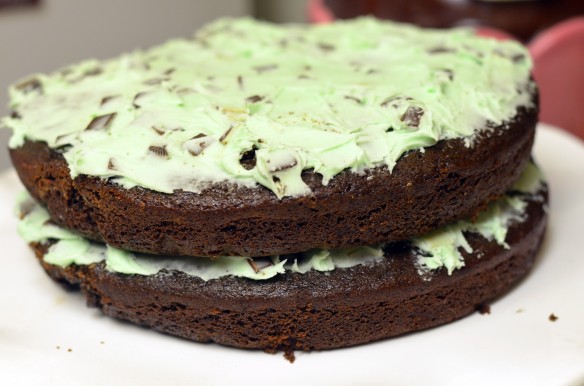 This cake is ridiculously indulgent and over the top, and we ate it again for breakfast this morning (which might have been a mistake as I think I might have eaten just a bit too much).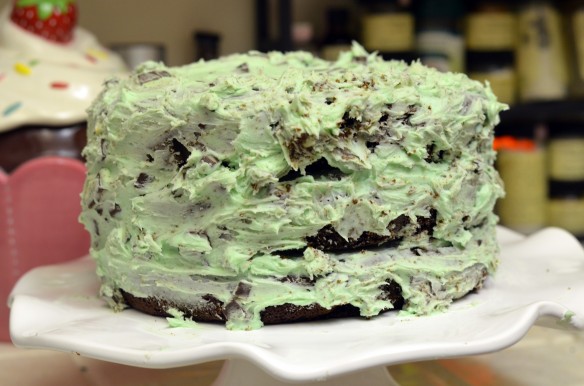 We seriously need to go on a detox diet from now until Thanksgiving. I'm still not very good at frosting a cake and making it look all pretty, but the chunks of mints and the ganache  hide all of the imperfections pretty well. In the end I think it came out looking pretty cool, even if it isn't gorgeous. What matter is the test, and this cake gets an A+!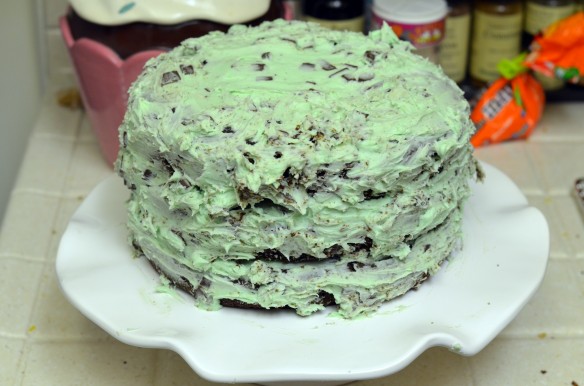 I made the cake the night before I planned on assembling it, wrapped the layers in plastic wrap and refrigerated them overnight, so they'd be nice and firm. When I got home from school yesterday, I frantically whipped together the frosting, made the ganache, and threw everything together before we went out for his birthday dinner. By the time we got home, the cake was set, and we were all ready to indulge.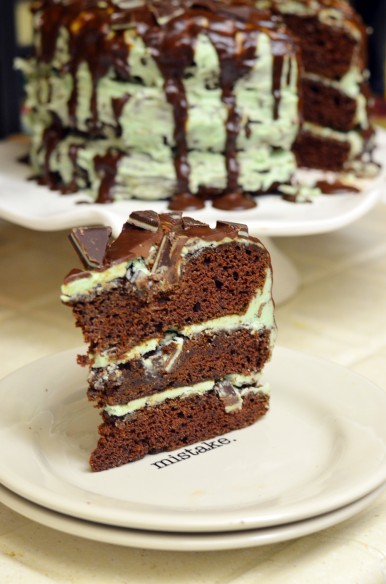 I felt a little bad we didn't end our evening at the restaurant with a dessert course, but I hope when we got home, I more than made up for that!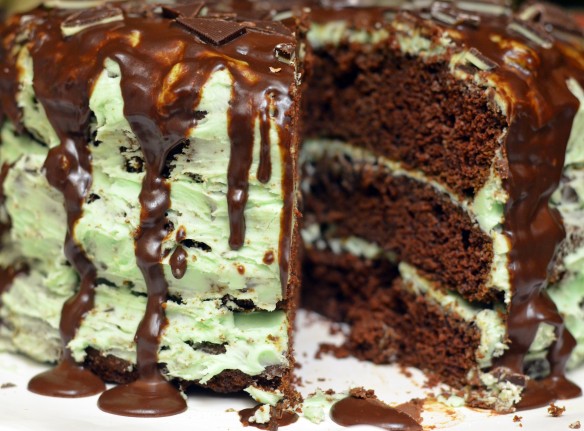 Mint Chocolate Chip Cake
yields 3 9" inch round cakes, stacked together
Cake
2 3/4 cups all-purpose flour
2 teaspoons baking soda
1/2 teaspoon baking powder
1/2 teaspoon salt
1 cup unsalted butter, room temperature
2 1/4 cups granulated sugar
4 eggs, room temperature
1 teaspoon vanilla extract
1 3/4 cups milk
2 teaspoons coffee, finely ground
1 cup unsweetened cocoa powder
Preheat the oven to 350º. Line 3 9" round cakes with parchment paper and spray with non-stick spray.
Sift together the flour, baking soda, powder, and salt in a medium sized bowl.
In the bowl of a stand mixer, combine the butter and sugar, beating for about 4-5 minutes until light and fluffy.
Add in the eggs, one at a time, mixing until incorporated, followed by the vanilla extract.
Heat the milk in the microwave until very hot, but not bubbling. Add in the coffee and cocoa powder, mixing until dissolved.
With the mixer on low, alternate adding the milk and flour mixtures to the mixer, until everything is barely combined. Do not over mix.
Pour the batter into the pans, and bake for about 30 minutes (rotating half way through), or until a toothpick inserted into the center comes out cleanly.
Allow to cool in the pans for at least an hour before transferring to a wire rack to finish cooling. Ensure cakes are thoroughly cooled before frosting (I wrapped each layer in plastic and refrigerated them overnight).
Andes Mint Buttercream Frosting
1 cup unsalted butter, room temperature
1 teaspoon vanilla extract
1 teaspoon peppermint extract
4 1/2 cups powdered sugar
2-3 tablespoons heavy cream
8-10 drops green food coloring
1 cup Andes mints (approximately 28 mints), roughly chopped
Beat the butter on medium-high speed in the bowl of a stand mixer until fluffy.
Add in the vanilla and peppermint extracts.
Slowly add the powdered sugar, 1/2 cup at a time.
Add in the heavy cream and food coloring. Add in additional powdered sugar if frosting needs thickening.
Gently fold in the Andes mint.
Frost the tops of each layer, then stack them together and frost the sides.
Ganache and Topping
1/2 cup heavy cream
2 tablespoons unsalted butter
3.5 ounces unsweetened dark chocolate
1/8 teaspoon salt
1/2 teaspoon vanilla extract
1/2 cup Andes mints (approximately 14 mints), roughly chopped
In a double boiler, heat the heavy cream, butter and dark chocolate until smooth and shiny.
Remove from heat and add in the salt and vanilla extract.
Allow to thicken and cool for 10 minutes before pouring over the top of the cake.
Press chopped mints on top.
Allow cake to sit in the fridge, lightly covered in plastic wrap, until ganache has hardened.
Serve and enjoy!