Orange Chicken Tacos
For another installment of easy dinners on days you want to put zero effort into making food, may I present to you orange chicken tacos! I feel like all of my food inspiration these days either involves pumpkin or combining two different cuisines like Asian and Mexican in this case.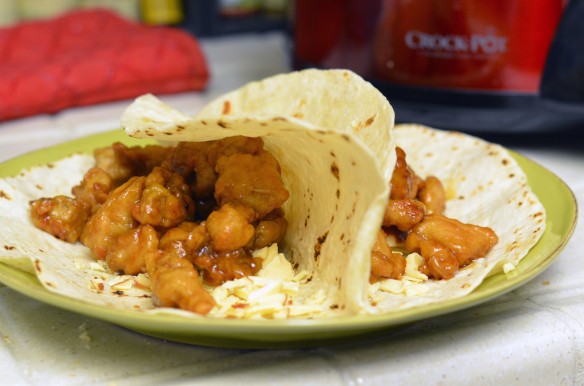 Trader Joe's makes some great frozen orange chicken that I think rivals any you can get from your average Chinese food takeout place (and is a heck of a lot cheaper), but you could definitely use any kind of Chinese food leftovers with great success (I think sweet and sour chicken tacos are in our future).
I tried thinking of an interesting slaw recipe to go on top of these tacos, but was feeling a little creatively tapped out, so we skipped any notion of veggies and only added cheese— smoked gouda, which really complemented the sauce quite well.
I'm not sure this really qualifies as much of a recipe, but I'll type it out anyway!
Orange Chicken Tacos
serves 3
1 22-ounce package of Trader Ming's Mandarin Orange Chicken
1 cup reduced fat smoked-gouda, shredded
6 large flour tortillas
Prepare the chicken according to package instructions (bake for 18-20 minutes at 400º). Toss with packaged sauce.
Warm tortillas, add in sauced chicken, and top with cheese.
Roll and eat!