Pumpkin Chicken Curry with Homemade Naan
I bet you can guess what Dustin's initial reaction to this dish was. "Pumpkin?" again. But just to be fair this pumpkin dish didn't have any cinnamon or ginger, but rather was spiced up with lots and lots of curry powder. We didn't have super high expectations from this dish, but we were absolutely blown away by the flavors. I was stuffed to the brim with food, not exactly what you want to be feeling a couple of days before Thanksgiving. But every single bite was worth it.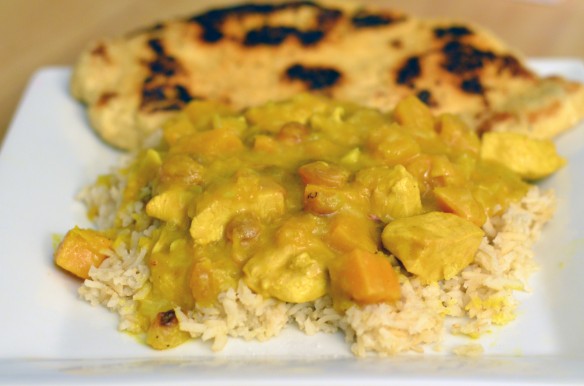 I've been wanting to make naan at home for awhile, so this curry seemed like the perfect excuse to whip fluffy Indian flatbreads. I definitely see more naan in our future.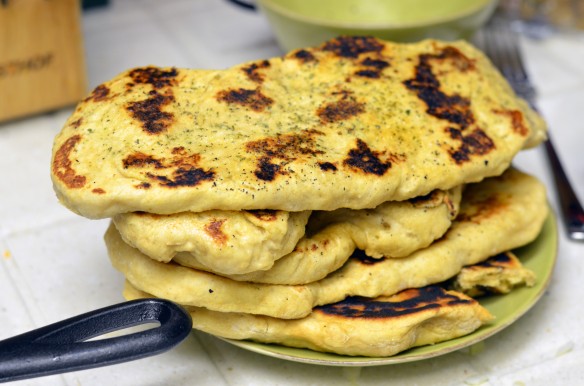 Pumpkin Chicken Curry with Homemade Naan
Pumpkin Chicken Curry
serves 4
1 tablespoon olive oil
1 yellow onion, diced
2 cloves garlic, minced
3/4-1 lb boneless, skinless chicken breast, cubed
2 tablespoons curry powder
1/4 cup flour
1 cup chicken broth
1 14-ounce can coconut milk
1/4 cup golden raisins
1 medium sugar pumpkin, peeled and cubed
salt, to taste
1/4 cup shredded coconut, toasted
2 cups rice, cooked
Saute the onion in the olive oil in a large pot over medium heat until translucent.
Add in the garlic and cook for another 2 minutes.
Add in the cubed chicken and cook for 5-6 minutes until chicken is no longer pink.
Season with curry powder and toast for about a minute.
Add in the flour and stir.
Pour in the chicken broth and coconut milk. Bring to a simmer and stir until the sauce begins to thicken.
Add in the raisins and the pumpkin cubes. Bring to a boil then reduce to a simmer, cover and cook for 25-30 minutes until the pumpkin is soft, but retains some of its texture.
Season with salt to taste.
Serve on a bed of rice topped with toasted coconut alongside naan (recipe below).
adapted from Daring Gourmet
Naan
yields 6-7 large naans
1 1/2 cups all-purpose flour
1 1/2 whole wheat pastry flour
1 tablespoon granulated sugar
1 1/2 teaspoons baking powder
1/2 teaspoon baking soda
1/4 teaspoon salt
1 teaspoon instant yeast
1/4 cup hot water
3/4 cup hot milk (I used 2%)
1 cup nonfat Greek yogurt
3 tablespoons unsalted butter
salt, to taste
granulated garlic, onion, or any other spices you desire (optional)
Combine 1 cup of all-purpose flour and one cup of whole wheat pastry flour with sugar, baking powder, soda, salt, and yeast in a large bowl.
Slowly add the hot water and milk to the flour mixture.
Stir in the yogurt followed by the remaining flour, using a wooden spoon and then your hands when the dough gets difficult to work with. The dough will be fairly sticky.
Cover the mixture with a damp towel and let sit on the counter in a warm place.
Divide the dough into desired number of naan and roll into balls.
Use a rolling pin or simply use your fingers to stretch the dough to be about 8 inches in length.
Brush with melted butter and top with salt and other desired spices.
Heat a cast iron skillet to medium high heat.
Cook the naan for 45 seconds to a minute (use a lid to cover the skillet to help steam the naan). You may see bubbles start to appear on the naan or not.
Flip and cook for another 30-45 seconds until both sides are golden brown.
Brush with any remaining butter if desired, and most importantly, serve warm.
adapted from Food52
We had happy bellies last night indeed.