Soft Molasses Cookies
I purchased my annual bottle of molasses recently, deciding now that it is officially appropriate to wear a (light) jacket here in LA (and exactly one month from Christmas as of today), it was time to make molasses cookies. Easier than rolling out gingerbread men, I still get my molasses/ginger/cinnamon fix. I really wanted to make the Dahlia Bakery version with fresh ginger for a little extra zip in the cookies, but Trader Joe's didn't have any fresh ginger on hand and I wasn't waiting any longer to turn on the oven after several weeks away. I'm sure you've noticed a marked decrease in desserts as of late. That will be changing with the holidays coming up!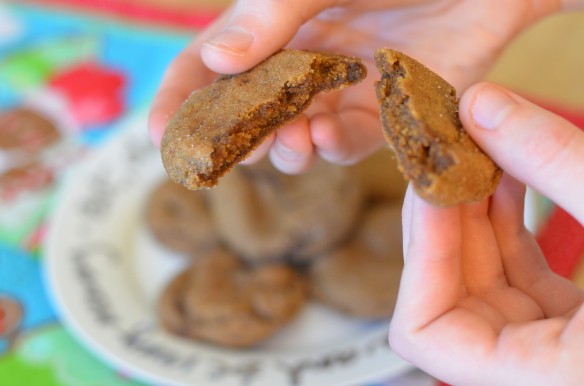 I decided to substitute coconut oil for butter in the recipe to conserve butter for all of the Thanksgiving recipes that will be needing butter later this week. These cookies were just as rich and flavorful as I would have expected using butter, and there was definitely no coconut taste to be found. If I ever need to bake for someone who is a vegan, I feel pretty confident that coconut oil could replace butter in most of my favorite recipes.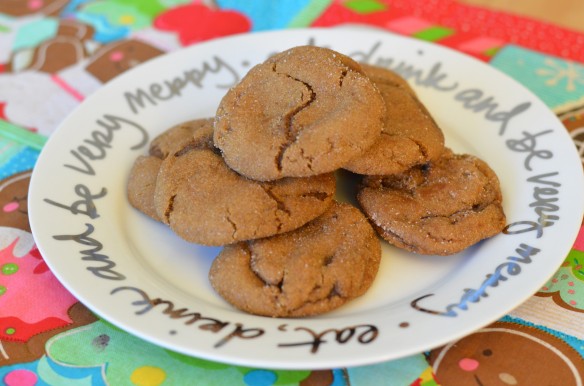 Soft Molasses Cookies
yields 2 1/2 dozen cookies
Cookies
1/2 cup coconut oil, room temperature
1 cup dark brown sugar
1 egg, room temperature
1/3 cup molasses (I used full bodied) *spray measuring cup with cooking spray before measuring
1 tablespoon vanilla extract
2 cups all-purpose flour
1 1/2 teaspoons baking soda
1/4 teaspoon salt
1 1/2 teaspoons cinnamon
1 1/2 teaspoons ground ginger
1/2 teaspoon cloves
In a large bowl, cream together the coconut oil and sugar for 3-4 minutes until fluffy.
Add the egg, molasses, and vanilla and blend until smooth.
In a medium sized bowl, mix the flour, baking soda, salt, and spices.
Slowly add the dry ingredients to the wet and gently mix until thoroughly incorporated.
Allow the dough to chill in the fridge for at least two hours (preferably overnight).
Preheat oven to 350º and line baking sheet with silicone baking mat or parchment paper.
Scoop out about 1 1/2 tablespoons of dough and roll in cinnamon sugar topping (recipe below) and then place onto baking sheet.
Bake for approximately 8 minutes.
Allow to cool on baking sheet for about 10 minutes before transferring to a wire rack to completely cool.
Topping
1/2 cup granulated sugar
1 /2 teaspoon cinnamon
1/4 teaspoon ground ginger
Mix together sugar, cinnamon, and ginger in a small bowl.
Adapted from Joy of Baking