The Spice Table
Dustin has been making fun of me recently because of my obsession with this list I stumbled upon online. It's a list from Jonathan Gold of the LA Times counting down the 101 best restaurants in LA. I've been using it as a reference guide for places to eat around here, and I thought it would be a fun to set a goal for ourselves to eat at all of them before we leave LA in a few years (minus the crazy expensive ones we can't afford— #2 is a sushi restaurant that can easily set you back $1000!). So far we've checked around a dozen or so restaurants off of the list. I don't see Dustin complaining about all of the great food he has been eating as a result of my research!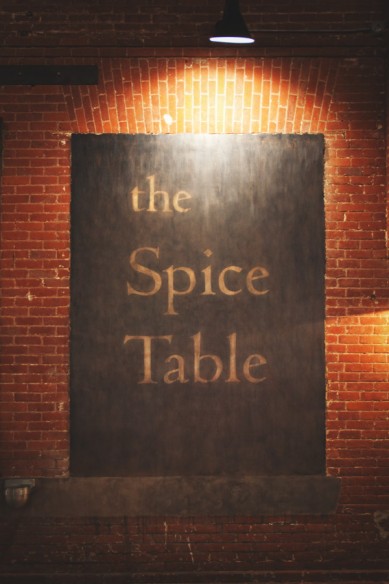 We met some Rice colleagues, one of whom Dustin knew from the computer science department and is now living in  OC for an amazing dinner at The Spice Table. A restaurant that definitely delivers it's name— spice!
Everything here was ridiculously flavorful, and we ended a night of great company quite stuffed to the brim. Every piece of food here was incredibly well thought out, perfectly seasoned in and of itself accompanied by a perfectly spiced sauce. We assumed that 45 minutes would be more than enough time to get from our place in West LA to downtown, but boy were we wrong. We ended up running around 15 minutes late. Fortunatel,y our friends were patient for our arrival. While waiting for us, they ordered the peanuts and fried baby anchovies, a nice sweet and spicy combination to get the evening started.
We began ordering a round of small plates including the fried cauliflower with fish sauce, the black pepper crab toast, and the grilled beef ribs. The cauliflower actually might have been my favorite dish of the evening. It was lightly breaded and spiced, and then dipping it in the fish sauce really took it over the edge. I couldn't stop popping these bites into my mouth. I would eat cauliflower every day if it tasted like this. Granted, this is fried cauliflower, so it's not a health food, but still delicious.
Our other small plates were winners as well. The crab came in a spicy, buttery, black oyster sauce along with toasted slices of white bread to spread/spoon it on to. The sauce was great for dipping other parts of the meal in, too. The beef ribs came alongside a pineapple anchovy sauce and lettuce to wrap them in. I know Dustin really enjoyed this dish.
In addition to the small plates, we ordered the lamb belly satay because it sounded like the most interesting of the satay options, served with a cumin and turmeric salsa of sorts. I would really have enjoyed a creamy, yogurty tzatziki sauce or something with the lamb (would have been nice to cool my mouth down), but still excellent.
Next came a round of large plates— the beef rendang and the laksa. The beef rendang is a short rib curry served over rice alongside peanuts and seasoned with sambal and kaffir lime that honestly wasn't exactly my cup of tea, but still good. The laksa is a spicy coconut broth based soup with rice noodles, shrimp and lots of some sort of chili. That being said, I couldn't stop slurping down the noodles even though my mouth was feeling the burn!
Finally, we topped of the night with a kaffir lime custard topped with lychee cream and four spoons. The custard was bursting with herbaceous flavor, but was also creamy and cooling— the perfect ending course to the dinner.
This was definitely one of the meals where you threw everything in your mouth, proclaimed it delicious, then had to take a big swig of water to cool your lips down, but no complaints here. Apparently, this place will be closing in the near future due to some city construction, or you can bet we'd be back. Hopefully, the owner brings this place back in some shape or form because it will be sad to lose out on such awesome flavors. We can see why it's been ranked so highly on Gold's list!