White Chocolate Pumpkin Cheesecake
This cheesecake it the epitome of Thanksgiving desserts. It's basically all of your favorite Turkey Day (dessert) flavors rolled into one— a gingersnap-pecan crust, pumpkin white chocolate cream cheese filing, topped with sugared cranberries. If you aren't a big fan of cranberries then those can be omitted (and maybe replaced with cinnamon or honey pecans, another option I toyed with before adding pecans to the crust), but I couldn't resist sugaring some fresh cranberries— the perfect combination of sweet and tart!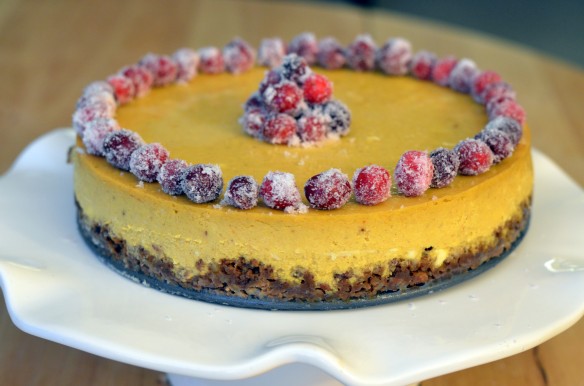 I took this cheesecake to the UCLA 1st year psychology Thanksgiving dinner (aka a dinner for us LA transplants who don't have time to travel this weekend since we had school, particularly our statistics class late in the day on Wednesday). The texture of the cheesecake was spot on, and the flavors were outstanding. Several people commented on how pretty it looked. I think my classmates were sufficiently impressed.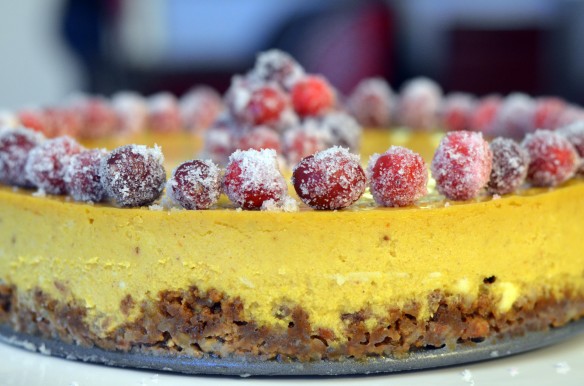 I've had some problems with cheesecakes cracking slightly in the past, but this one came out absolutely perfect (I let it cool slowly, described below in the baking instructions). I almost didn't want to cut into it because it looked so good!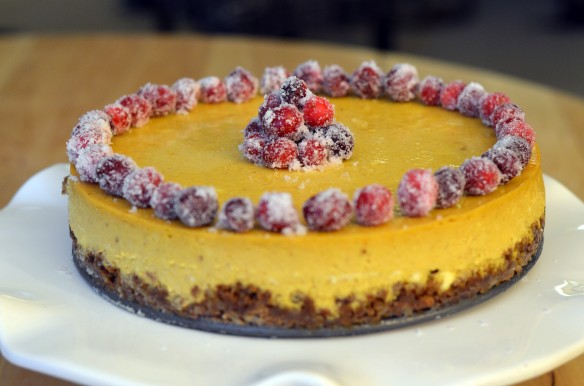 White Chocolate Pumpkin Cheesecake
yields 1 9" cheesecake
Crust
25 mini gingersnap cookies
1/2 cup pecan pieces
1/4 cup unsalted butter, melted
Pulse the gingersnap cookies and the pecan pieces together in a food processor until you have a fine crumbly mixture.
Add in butter until all crumbs are moistened.
Press crust into greased 9" springform pan wrapped in aluminum foil. Set aside.
White Chocolate Pumpkin Filling
3 8-ounce packages cream cheese, softened
1 cup granulated sugar
3 eggs, room temperature
1 teaspoon vanilla extract
5 ounces high quality white chocolate, melted
3/4 cup canned pumpkin
2 teaspoons cinnamon
1/4 teaspoon nutmeg
1/2 teaspoon pumpkin pie spice
pinch of ginger
pinch of cloves
Preheat oven to 350º.
Combine the cream cheese and sugar in the bowl of a food mixer until smooth.
Add in the eggs, one at a time, mixing until smooth. Add in the vanilla extract.
In a small bowl, combine the pumpkin and spices.
Gently fold the pumpkin mixture into the cream cheese mixture.
Pour the cream cheese mixture on top of the gingersnap-pecan crust.
Place the springform pan in a baking sheet with sides and fill baking pan with water as high as you can (up to halfway up the springform pan).
Bake for 55 minutes until the outside of the cheesecake is set but the middle is still jiggly.
Turn off the oven, but let the cheesecake sit in the oven for about 5 minutes. Then crack the oven and allow the cheesecake to sit for another 5 minutes. Remove baking pan from the oven and then carefully move springform pan to a wire cooling rack. This gradual cooling will help prevent cracking.
Allow to come to room temperature, then cover and let chill in the refrigerator overnight.
Top with sugared cranberries (recipe below) and serve.
adapted from Taste of Home
Sugared Cranberries
2 cups sugar, divided
1 cup water
2 cups cranberries
Bring 1 cup of sugar and water to a rolling boil in a medium sized saucepan, stirring until sugar is dissolved.
Add cranberries, cover with lid, and remove from heat.
Let cranberries steep for 15 minutes.
Drain cranberries and allow to cool on wire rack in a single layer.
Let dry for about 30-45 minutes then toss in remaining sugar. Allow to finish drying for several hours until no longer sticky.
from Dahlia Bakery Cookbook
Sweet Bonnie was sad because she thought we forgot to feed her dinner. Not the case. As you know, we would never exclude Bonnie from the holiday festivities. She simply had to wait a little longer for her chicken (rice + pumpkin + cheese) dinner to cool from the grill. There was no time to get a picture, as she wolfed that special dinner down!