Baked Brie and Dried Sausage Board
Baked brie is one my favorite appetizers at a party, so it's a little hard to believe we haven't made it until now. Despite wanting to make it, I've never actually been able to locate puff pastry when I was searching it out. Until now at Trader Joe's.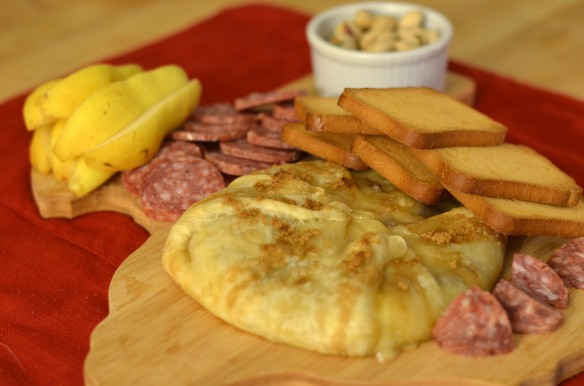 We decided to put together a little meat and cheese board for the two of us with a baked brie, brioche crackers, dried sausage made with white wine, sliced pears, pistachios, pecans, and olives. It would be the perfect set of appetizers to serve at a New Year's Eve party.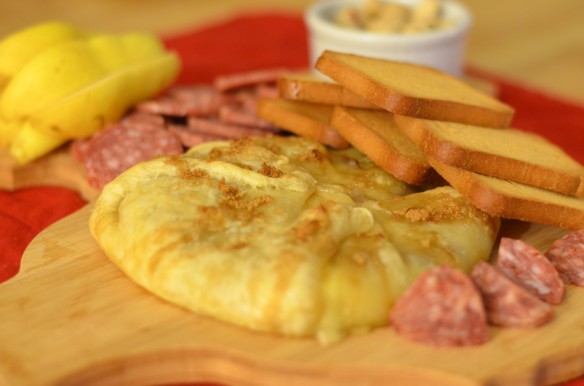 Any type of jam can be used on top of the brie, but I really liked the idea of raspberry. And any nut would work in the filling, but I like pecans. Slice the top of the rind from the brie if desired to help the crust stick after you slice, and be careful to fully wrap the brie with the puff pastry or else melty cheese will ooze out everywhere!
Baked Brie
1 wheel of brie
1 sheet puff pastry, thawed
1/2 cup raspberry jam or preserves
1/4 cup pecans, chopped
maple syrup, for drizzling
brown sugar, for sprinkling on top
Preheat the oven to 350º.
Place the brie (top rind removed) in the center of the puff pastry on a baking sheet lined with parchment paper or a silicone baking mat.
Spoon the jam on top of the brie and sprinkle the chopped pecans on top of the jam.
Fold the edges of the puff pastry up around the brie and pinch together firmly.
Drizzle with maple syrup and sprinkle with brown sugar.
Bake for 25 minutes.
Allow to cool for 10 minutes before serving with crackers and pear slices.
Recipe from Simply Recipes