Gingerbread Granola
Not quite gingerbread granola, but flavored with molasses, ginger, and cinnamon, it's about the closest granola you'll get to gingerbread. It's quite a bit healthier than all of the stuff we crammed into our faces for Thanksgiving and we'll be sure to eat in a few week for Christmas. Until then we'll try to eat a little better when we can.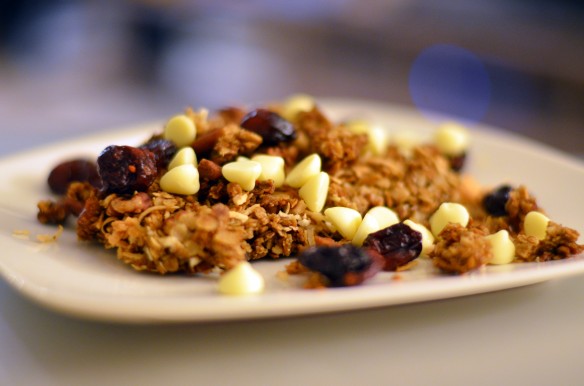 This was designed for breakfast with Greek yogurt and fruit, but it ended up being a great lunch instead, and I was completely ok with that. I could probably eat a yogurt parfait with homemade granola every single day for lunch and be pretty happy. Considering I already had all of the ingredients on hand from various things I've been making recently, it was more economical than buying a parfait from the campus coffee shop, that's for sure!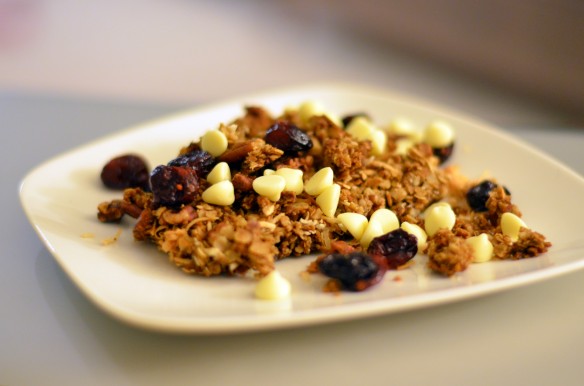 Gingerbread Granola
3 cups rolled oats
1 1/2 cups pecans, chopped
2 teaspoons ginger
2 teaspoons cinnamon
1 teaspoon cloves
1/4 teaspoon salt
1/3 cup coconut oil, melted
1/3 cup molasses
1/4 cup maple syrup
1/2 cup shredded coconut
1/2 cup dried cranberries, chopped
1/2 cup white chocolate chips
Preheat oven to 350º.
Line baking sheet with parchment paper.
Combine the oats, pecan, and spices together in a large bowl.
Add the coconut oil, molasses, and maple syrup and stir until combined.
Spread in even layer on baking sheet and bake for 20 minutes.
Remove from oven, gently break apart granola and add coconut and cranberries.
Bake for another 10-15 minutes or until coconut is browned and granola is crisp.
Remove from oven and allow to cool completely before stirring in white chocolate.