Oreo Truffles
My mom asked to me to make some holiday desserts for my dad to take into his office while I was visiting. Happy to oblige when it comes to making dessert, I wanted fairly easy desserts since I'm not as comfortable baking outside of my comfort zone in a new kitchen and without my standard equipment.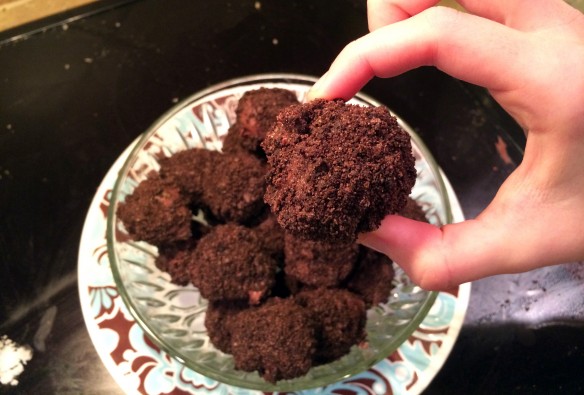 I know Oreo truffles are a popular dessert this time of year and are super easy to make, so they were my go-to first choice. You can coat them with any kind of chocolate you wish, but I decided to dip them in milk chocolate because Oreos go so well with milk, right?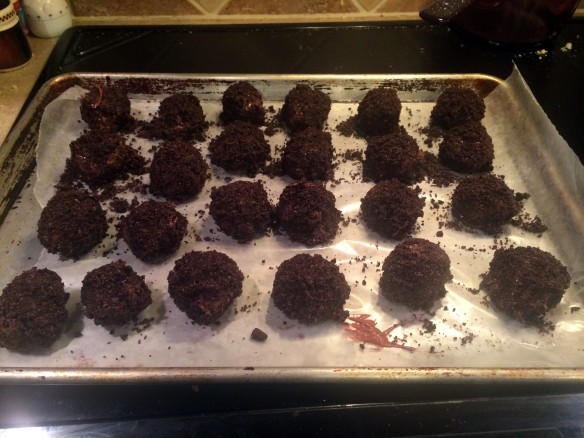 These are super rich, so you definitely only need one, but the centers really do get the texture of a truffle you'd buy at a fancy chocolate shop.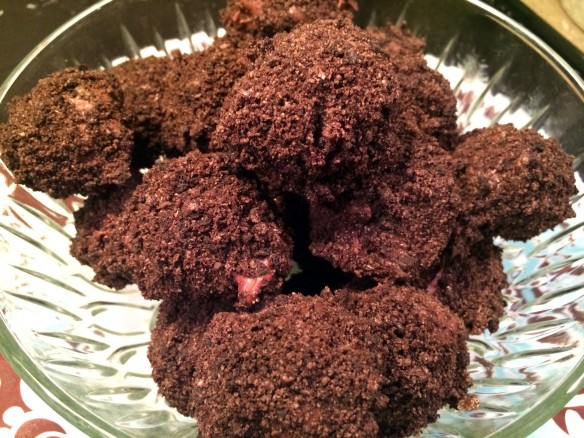 Sorry for the lame pictures, but we didn't have our nice camera and had to rely on my iPhone.
Oreo Truffles
yields 2 dozen truffles
1 family size pack Oreo cookies (48 cookies), divided
1 8-ounce cream cheese, softened
1 11-ounce bag milk chocolate (or chocolate of your choice)
Pulse the Oreos in a food processor until they form a fine crumb.
Combine 2/3 of the Oreo crumbs with the cream cheese using a spatula until smooth.
Divide the cookie and cream cheese mixture into 24 pieces and roll into balls, placing them on a parchment paper lined baking sheet.
Melt the chocolate in the microwave or double boiler. Place the remaining Oreo crumbs on a plate.
Using a fork, dip the balls into the melted chocolate, then roll in the Oreo crumbs.
Place back on the baking sheet and put the baking sheet in the refrigerator for an hour to set.
adapted from Kraft recipes