Pear, Pecan & Pomegranate Seed Salad
We are starting on our New Year's resolutions early this year— we've picked up running again (side note— it was over 70 degrees and almost too hot to run yesterday) and are working on healthier eating (with liberal amounts of desserts still worked in). The first step towards better eating was this triple-P salad for dinner.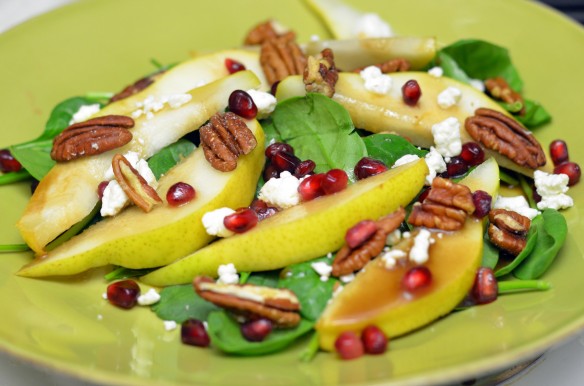 It's perfect for Christmastime not only in flavor but looks too, since it's red and green. Doesn't it look pretty and festive?
I'm sure you already know how Dustin feels about salad, but he actually said he was sad there wasn't anymore of this salad left and he would look forward to eating it again. Now that is saying something!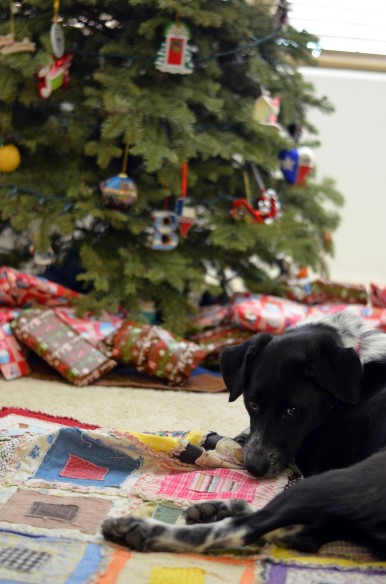 Merry Christmas Eve!
Pear, Pecan & Pomegranate Seed Salad
serves 2
Salad
3 cups fresh spinach
1 Bartlett pear, sliced
1/4 cup goat cheese crumbles
1/4 cup pecans, toasted
1/4 cup pomegranate seeds
maple vinaigrette dressing (recipe below)
Divide the spinach amongst two plates.
Layer pears on top.
Sprinkle with goat cheese, pecans, and pomegranate seeds.
Drizzle with maple vinaigrette.
Maple Vinaigrette
4 parts olive oil
2 parts balsamic vinegar
1 part pure maple syrup
salt, to taste
pepper, to taste
Combine all ingredients in a glass jar and vigorously shake.
Bonnie is impatiently awaiting her presents.