Pistachio & Gorgonzola Stuffed Pork Tenderloin
What a delicious Christmas Eve dinner. We stuffed a succulent pork tenderloin with pistachio, gorgonzola, thyme, and shallots. It's finished over a raspberry sauce and beside beer goat cheese grits. It was truly stellar, and Erin said it was restaurant-like.
Although this was pretty rock solid, I would make two adjustments: use less filling, and do a pinwheel roll. As you can see, the stuffing sort of leaked out. Either way, it was a wonderful pleasure to eat.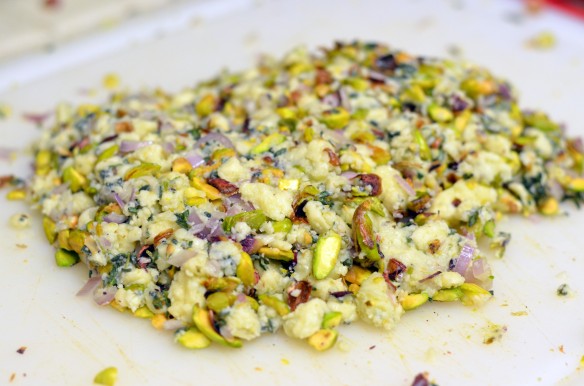 If you don't have any kitchen twine, you can probably ask your butcher for a few feet for free.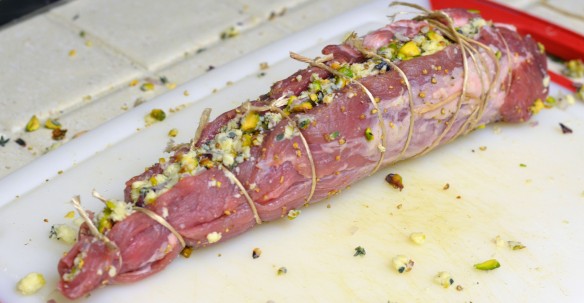 Merry Christmas! Stay tuned for Christmas pictures tomorrow.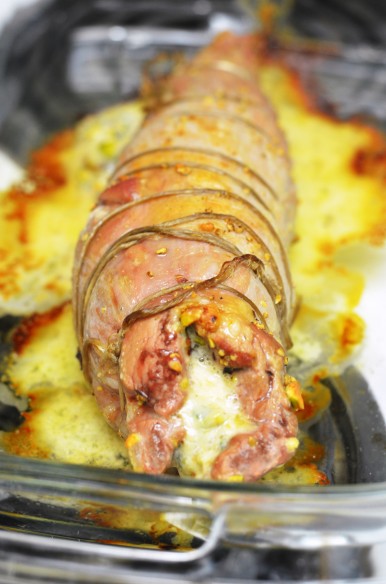 Stuffed Pork Tenderloin
1 pound pork tenderloin
1/2 pound pistachios, shelled and crushed
2 shallots, chopped
1 bundle thyme, chopped
4 oz gorgonzola, crumbled
sea salt
fresh cracked pepper
Penzey's Raspberry Enlightenment sauce
Lay the tenderloin on a cutting board, and make a lengthwise cut through the tenderloin most of the way through, leaving about 1/2 inch.
Open tenderloin flat and cover with plastic wrap. Using a meat pounder, pound the meat until about 1/2 inch thin.
Season both sides liberally with salt and pepper.
Combine pistachios, shallots, thyme, and gorgonzola in a bowl and mix.
Layer pistachio misture over the tenderloin and roll up. Tie the meat with kitchen twine and place seam side down in a baking dish.
Cook the meat in a 425° oven for 25 minutes. Move the baking dish to the top rack and broil for 2 minutes to get a nice golden crust on top.
Let the tenderloin rest for 10 to 15 minutes, before cutting away the kitchen twine and slicing.
Adapted from Skinny Taste
Beer & Goat Cheese Grits
1 cup brown ale
1 1/2 cups whole milk
1 cup heavy cream
1 cup corn grits
3 tablespoons butter
Salt and pepper, to taste
1 cup  goat cheese, crumbled
Add beer, milk, cream to a pot over medium heat and bring to a simmer.
Whisk in the grits and stir.
Cook grits for about 20 minutes, stirring frequently.
Whisk in butter, salt, pepper, and most of the goat cheese.
Plate the grits and top with the rest of the goat cheese crumbles.
Slightly adapted from The Craft Beer Cookbook by Jacquelyn Dodd