White Chocolate Cranberry Cookies
We had a potluck style lab party (and super competitive trivia competition) with all of our undergraduate RAs to celebrate the end of the quarter yesterday. Naturally I brought dessert. The base of these cookies are the same as your standard white chocolate macadamia nut cookies, except I swapped the nuts for dried cranberries for a festive twist.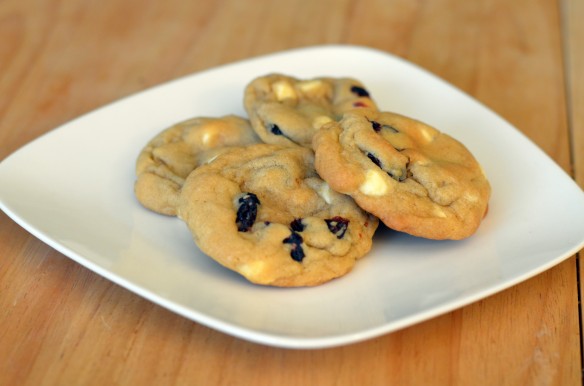 In my opinion theses cookies are the perfect texture, soft, but not too soft that they fall apart in transport, and while cranberries aren't my favorite thing in the world, they pair nicely with the white chocolate— a good cookie to add to you holiday baking list!
Off to study and write for finals!
White Chocolate Cranberry Cookies
yields 2 dozen cookies
1/2 cup unsalted butter, softened
1/2 cup brown sugar, packed
1/3 cup granulated sugar
1 egg
1 1/2 teaspoons vanilla extract
1 1/2 cups all-purpose flour
1/2 teaspoon baking soda
1/4 teaspoon salt
2/3 cup white chocolate chips
1/2 cup dried cranberries, chopped
In a large bowl, beat the butter and sugars for several minutes until light and fluffy.
Add the egg and mix, then add the vanilla extract and mix.
In a medium sized bowl, combine the flour, baking soda and salt.
Slowly add the dry mixture to the wet mixture until just combined.
Fold in the white chocolate chips and dried cranberries.
Chill the dough at least 2 hours, preferably overnight.
Preheat the oven to 350º.
Line two baking sheets with silicone baking sheets.
Scoop tablespoon sized pieces of dough onto the baking sheets.
Bake each sheet for 10-11 minutes.
Allow to cool on pan for 5 minutes before transferring to a wire rack to cool completely.