Burger Mac 'n' Cheese
For some reason classic Cheeseburger Hamburger Helper has been on my mind lately. It's not something I ever ate a lot, but something about ground beef, pasta, and a cheesy sauce was incredibly appealing in my mind's eye. What was not appealing was the all of the processed stuff in a box of Hamburger Helper.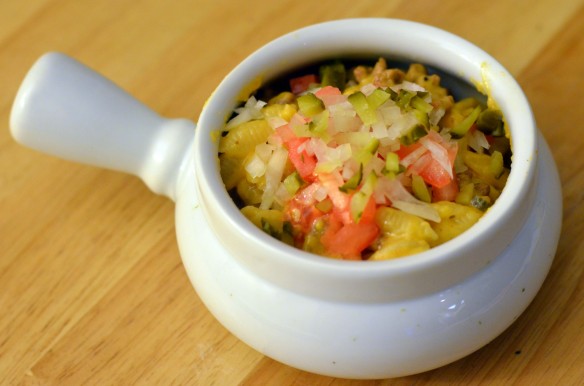 Dustin says it isn't fair to equate my dish with a box of Hamburger Helper, but it's the most natural comparison in my book. It has all of the flavors of biting into a big juicy cheeseburger except replace the bun with pasta shells. All of the traditional fixings are placed on top. No frills, just comfort food at its finest.
Burger Mac 'N' Cheese
serves 2
1/2 lb ground beef
6 ounces pasta shells
1 tablespoon butter
1 tablespoon flour
1 1/4 cup milk
5 ounces cheddar cheese, grated
1 tablespoon ground mustard powder
½ teaspoon ground cayenne pepper
1 teaspoon smoked paprika
1 teaspoon garlic powder
salt, to taste
pepper, to taste
1 tomato, chopped
¼ onion, chopped
2 tablespoons chopped pickles
In a large skillet, cook the ground beef until browned. Drain and set aside.
Bring a large pot of water to a boil and cook the pasta shells until al dente.
In a large pot with sides, make your cheese sauce while the pasta is cooking. Begin by making a roux, melting the butter over medium heat, then whisking in the flour until a paste has formed.
Add in the milk, stirring constantly until the mixture begins to bubble and thicken.
Add in the grated cheese and stir.
Add in all of the seasoning and mix thoroughly.
Allow the cheese sauce to sit on low while the pasta finishes cooking. Drain pasta and then add to the cheese sauce along with the ground beef mixing all together and mix.
Top with tomato, raw onion, and pickles.