Champagne Cupcakes with Raspberry Filling
We rang in 2014 with a quiet evening watching the ball drop in NYC, drinking and eating champagne in cupcake form, and hanging with our girls.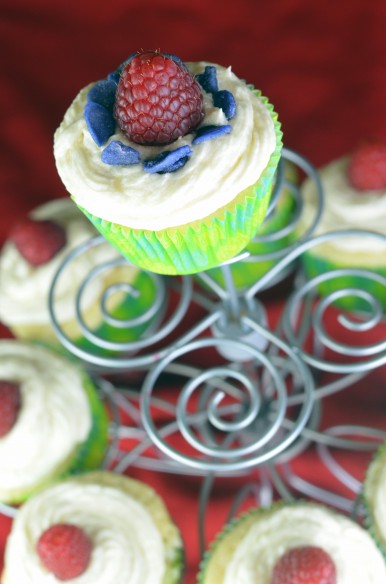 Yup, you heard me right. Bonnie now has a little sister named Bella we adopted a few days ago.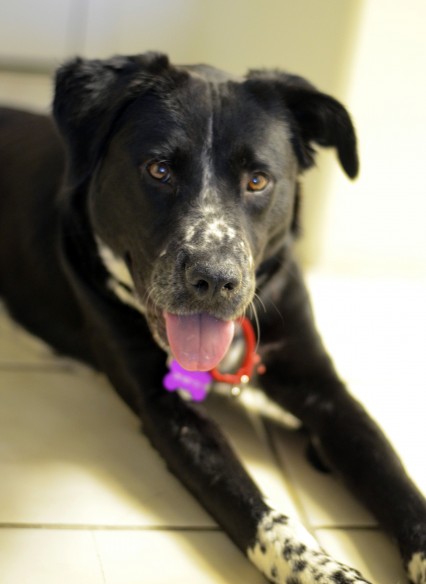 Maybe we are insane because Bonnie is such a good dog, and we are about to add a lot more crazy to our lives, but we felt we had a lot of love to give to another dog, and it would be worth all of the extra time and effort. Bella is also a border collie mix, about a year old, rescued from a shelter in South LA and brought to a no-kill facility near us. We were making some year-end charitable donations when we stumbled across her picture and couldn't get her adorable spots out of our mind. We'd been talking about adding a second dog to our family for awhile, so we just sort of did it. Bella is really sweet and affectionate, to both us and Bonnie. She picked up potty training pretty quickly, but she is a little slower with crate training. She is already experiencing some separation anxiety issues, whining very loudly when she is not with us. But once that issue subsides, I think we'll have a great new family member. Bonnie is taking it pretty well. She likes having a live-in wrestling partner, but not so much sharing her toys. They are so cute together they look like they could practically be biological sisters!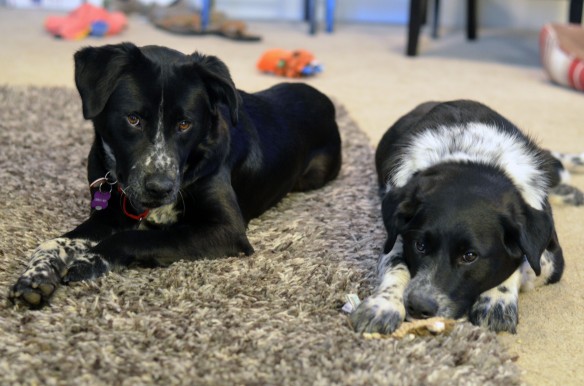 But back to the cupcakes. There is almost an entire bottle of champagne used in this recipe between the frosting and the batter. You can definitely taste the champagne flavor once baked, so you might not want to use a super cheap bottle (unless that's what you are all about), but there's no need for a super fancy bottle by any means. The remaining champagne can be enjoyed while baking!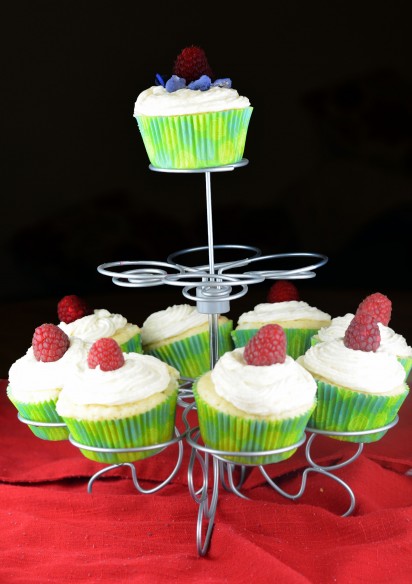 When searching for recipes, I chose the cake recipe because it used cake flour and egg whites, which along with the bubbly would seem to make a light and fluffy cake, exactly what you'd expect for champagne. These ended up lighter in texture than your standard cupcake with a few air pockets from the champagne, but not as light as say, an angel food cake.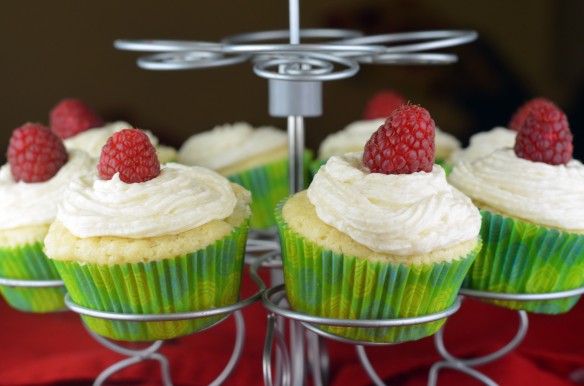 The raspberry preserves add an extra pop of flair to the middle to keep the cupcakes from becoming boring and one-dimensional. I attempted to decorate a few of the cupcakes with these pretty sparkly edible flower petals D's mom bought for me. Unfortunately, I really do not have an eye for design and they looked a little goofy. But the sparkle was nice surrounding a fresh raspberry on top, and sugary petals added a nice little texture to the top.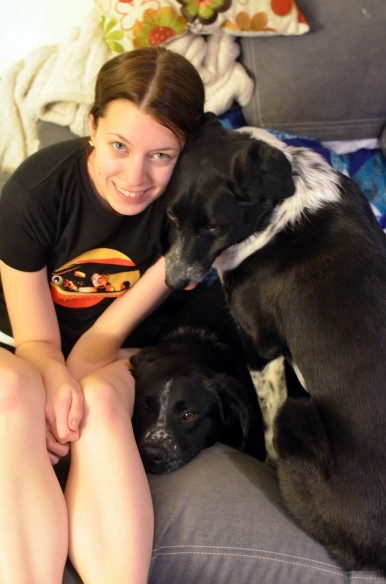 Perfect celebratory cupcakes for a new year and a new puppy! Yay 2014!
Champagne Cupcakes with Raspberry Filling
yields 1 dozen cupcakes
Cupcakes
1 1/2 cups cake flour
1 1/2 teaspoons baking powder
1/4 teaspoon salt
1/2 cup unsalted butter, room temperature
1 cup granulated sugar
1 teaspoon vanilla extract
3 egg whites
1 cup champagne or sparkling wine
1/2 cup raspberry preserves
12 fresh raspberries
Preheat the oven to 350º. Line a cupcake pan with paper liners.
Sift the cake flour, baking powder, and salt together in a medium sized bowl. Set aside.
Cream together the butter and sugar in the bowl of a stand mixer fitted with the paddle attachment for about 3 minutes until light and fluffy.
Add in the vanilla extract followed by the egg whites, one a time, mixing after each addition.
Slowly alternate between adding the flour mixture and the champagne, ending with the flour mixture.
Fill the cupcake liners about 3/4 of the way (you may have a little extra batter but that's ok).
Bake for 14-16 minutes or until a toothpick inserted into the center comes out cleanly.
Allow the cupcakes to cool in the pan for at least 15 minutes before transferring to a wire rack to cool completely.
When cupcakes are completely cooled, use a sharp paring knife to cut out a cone shape from the middle of the cupcake and fill with a spoonful of raspberry preserves.
Frost the cupcakes and top each with a fresh raspberry!
recipe slightly adapted from 20 Something Cupcakes
Frosting
1 cup + 1 tablespoon champagne or sparkling wine, divided
1 cup unsalted butter, room temperature
2 2/3 cup powdered sugar
1/2 teaspoon vanilla extract
Heat a cup of champagne on the stove over medium-high until the champagne has reduced to about 2 tablespoons.
Cream the butter until smooth in a the bowl of a stand mixer fitted with the whisk attachment.
Add in the powder sugar until the mixture becomes thick.
Add in the reduced champagne plus the fresh tablespoon of champagne and the vanilla extract. Mix until smooth.
recipe slightly adapted from Sprinkle Bakes