Chocolate Mudslide Pancakes
I've never actually had a Mudslide to drink, but it sounds like something right up my alley— chocolate, Kahlua, and Bailey's Irish Cream. I bought a bottle of Bailey's awhile back with a strong desire to make a Bailey's syrup. Bailey's syrup on chocolate pancakes seemed like the perfect combination. We didn't have any Kahlua, so instead we added some ground coffee to the pancake batter to get that flavor but feel free to incorporate some Kahlua into the syrup (really more of a glaze, if you will) if you have it available.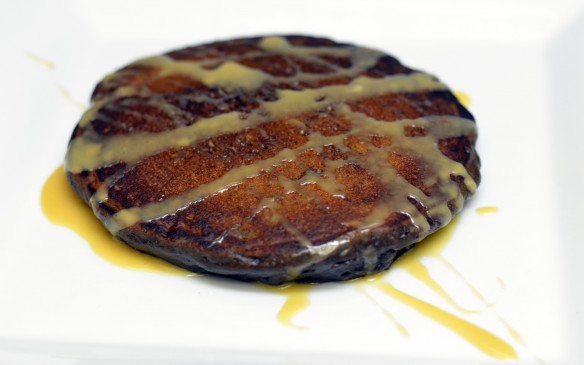 Despite these being tagged as a breakfast, we actually ate them for dinner one evening when we had practically nothing in the house. No cheese, no bread, not even snacks. We happened to have a single egg and a little bit of milk leftover from Christmas baking plus my pantry baking staples, so we had just enough to throw these pancakes together. Not bad for a pieced together dinner!
These were perfectly fluffy pancakes and the flavor was spot on with what we wanted. I might have eaten a little more than I originally intended to!
Chocolate Mudslide Pancakes
yields 6-7 large pancakes
Pancakes
1 cup all-purpose flour
1/3 cup cocoa powder
1/3 granulated sugar
1 teaspoon baking soda
3/4 teaspoon salt
2 tablespoon unsalted butter, melted
1 cup milk
1 large egg
2 teaspoons ground coffee, finely ground
Sift together the flour, cocoa powder, sugar, baking soda, and salt.
Mix together the butter, milk, and egg until smooth.
Slowly add the dry mixture to the wet mixture until just mixed together (small lumps are ok).
Stir in the coffee.
Heat the griddle to about 350º or medium heat. Spray with nonstick cooking spray.
Ladle batter onto hot griddle and cook until bubbles begin to form around the edge (around 4 minutes or so).
Flip the pancakes and cook through.
Drizzle with Bailey's Glaze.
Bailey's Glaze
1 cup powdered sugar
1/4 cup Bailey's Irish Cream
1/4 teaspoon vanilla extract
Mix all ingredients together until smooth.
Drizzle over warm pancakes and serve.