Dork Burgers
One of our favorite Seattle places was a burger joint called Lunchbox Laboratory. Once they opened a location in downtown Bellevue, you better believe we were eating there way more often than we should have been. We tried many different versions, but by far their standout burger was "The Dork," with a duck-pork hybrid patty covered with garlic aioli, onions, and melty cheese.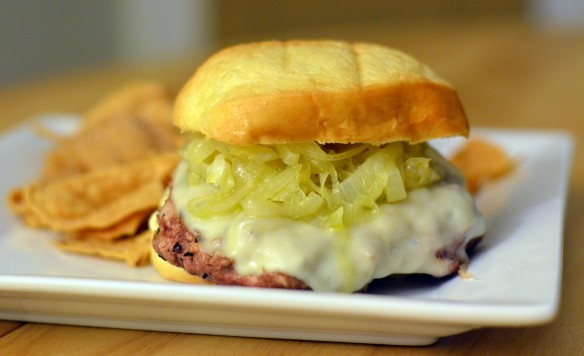 Dork burgers have been on our make list for awhile since we've moved to LA. And what better day to make a burger out of duck than the day that our newly beloved Kings are playing the Anaheim Ducks.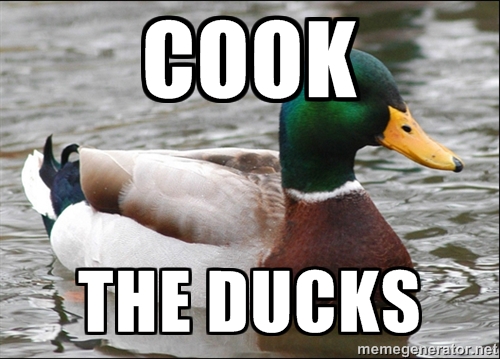 While watching the Kings vs. Ducks a few months ago, I randomly yelled "Cook the ducks!" at the television, and it's kind of become our thing. We made these burgers on Thursday when unfortunately the Kings lost to the Ducks. But good thing, we have a chance for redemption, as there is a rematch game tonight between the two LA area hockey rivals being played at Dodger Stadium.
Take a bite out of a big, juicy Dork!
Dork Burgers
serves 2
white onion, sliced
2 tablespoons olive oil
1/2 lb duck breast
1/2 lb pork chop
salt
pepper
provolone cheese, sliced
garlic aioli
2 buns, sliced and toasted
In a small pan, heat the oil and cook the sliced onions over medium heat, stirring occasionally. Allow to cook for as long as needed until soft and delicious.
Trim the fat from the duck breast and the pork chop. Grind the duck and the pork, mixing together.
Shape into patties. Season with salt and pepper.
Grill for about 5 minutes per side.
In the last minute of cooking melt the cheese on top.
Slather the bun with garlic aioli, top with patty and onions.
inspired by Lunchbox Laboratory