Philly Cheesesteak Sloppy Joes
Erin mentioned this meal idea, and I had already agreed before she got to "sloppy". I love Philly cheesesteaks, and the idea of turning it into sloppy joe style was really interesting. Cooking this up, the kitchen started to smell so good. You have onions, bell peppers, ground beef, mushrooms cooking and emitting such a tasty scent.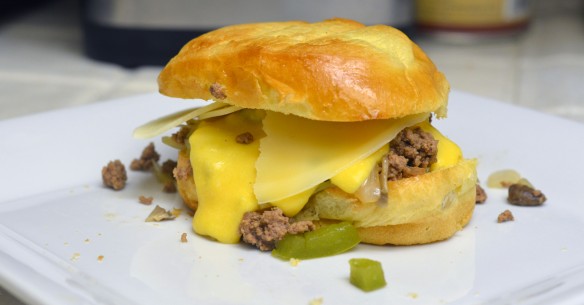 This really becomes a "cheesesteak" when you douse the beef in a homemade cheese-whiz sauce and then smother it with provolone. I planned on serving the sloppy joes with tortilla chips, but in a grocery shopping fail, I forgot salsa. As I was plating the dish sans salsa, I noticed Erin sneaking off and dipping her tortilla chips in the extra cheese sauce. That queso-loving girl will dip chips in anything at all resembling liquid cheese. Suddenly my forgetfulness turned into an epic chips and queso side dish.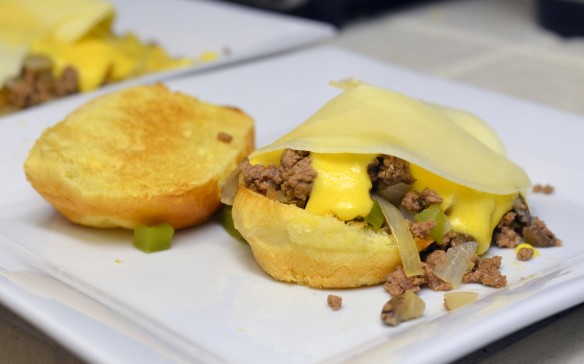 Philly Cheesesteak Sloppy Joes
serves 2
1 tablespoon olive oil
1 pound ground beef
1 white onion, chopped
1 green bell pepper, chopped
6 brown mushrooms, sliced
4 tablespoons Worcestershire sauce
1 1/2 cup beef stock
kosher salt
fresh ground black pepper
1 tablespoon butter
1 tablespoon flour
1 cup milk
1 cup shredded cheddar cheese
2 slices provolone
2 hamburger buns, toasted
In a large pan over medium heat, brown the beef with olive oil. Add onions, pepper, and mushrooms and cook for about 5 minutes until veggies are tender.
Add Worcestershire sauce and beef stock. Increase heat and bring to a boil. Season with salt and pepper. Cook for a few minutes and then bring down to a low heat.
Make a roux by melting butter and adding flour into a pan over medium heat. Add milk and bring up to a boil. After milk thickens, turn off the heat, and add in cheese. Stir until cheese is thoroughly melted.
Place a large helping of meat onto the hamburger bun and spoon over cheese sauce. Cover with provolone and top of the bun.
Adapted from Rachel Ray.