Pizzeria-Style Cheese Bread
Back at Rice, Erin and I used to eat Barry's Pizza pretty often. Their pizza was pretty excellent but whenever we ordered cheese bread, we knew we were in for a treat. It was the most ridiculously large layer of mozzarella you could imagine. Even though I specifically put "Mozarella (LOTS)" on the grocery list this week, Erin didn't buy enough cheese to achieve a Barry's level cheese bread. Even so, this is deliciously indulgent and flavorful.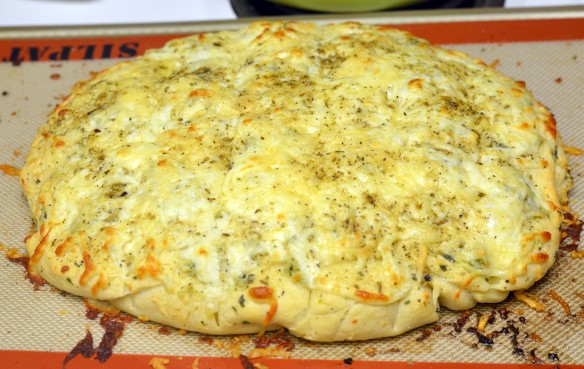 We began with a basic pizza dough (I had to make it twice because I accidentally used 2 1/4 tablespoons instead of teaspoons of yeast). We melted butter and mixed it with plenty of crushed garlic, herbs, and spices. We used a pastry brush to cover the flattened dough with our butter mixture, scored the dough with a sharp knife so it would be easy to cut into sticks, and then covered everything with cheese (mozzarella, parmesan, pecorino). After 10 minutes, it was an awesome, cheesy, gooey plate of perfection!