Shredded Chicken Jalapeño Popper Sandwiches with Crunchy Buns
I wanted to combine all of the flavors of a jalapeño popper into one giant and delicious sandwich. I described my idea to Dustin— basically make the middle of the sandwich the filling of a jalapeño popper, a delicious chicken salad with cream cheese, sour cream, cheddar cheese, and chopped bacon. Of course, I wasn't forgetting the jalapeño part. I planned to top the filling with sliced, fried jalapeños. I was super excited, and Dustin, well he was only sort of down. Conceptually speaking he was there with me, but he wanted to know where the crunch would come from. He didn't think the crunch from the fried jalapeños would be enough.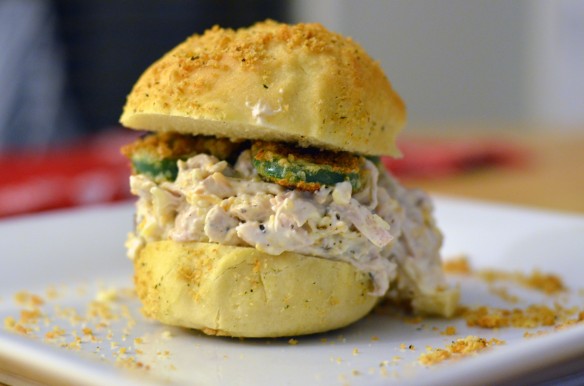 So I decided I wanted the buns to be crunchy. No where online could I find a recipe for homemade crunchy buns, so I decided to wing it by brushing the tops of the buns with butter and topping with Panko bread crumbs right before baking. It worked, but the crunchy stuff sort of fell off if you weren't too careful. Maybe there's a trick to making stuff stick to a bun— an egg wash? Execution wasn't perfect, but it was still delicious.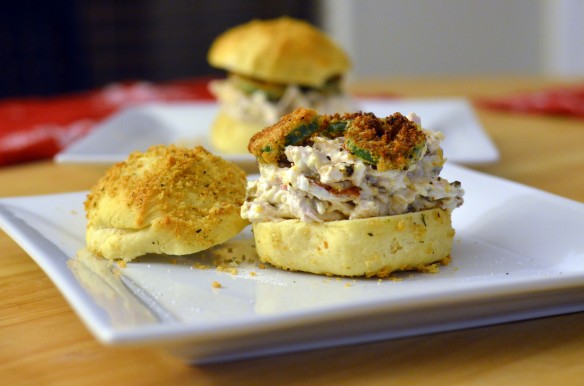 We might make a few changes to this dish in the future to make it a little more jalapeño-y. Maybe add some chopped jalapeños to the chicken salad mixture or some jalapeños to the buns or even a jalapeño aioli, because even though the fried jalapeños we made were delicious (fried in bacon fat!), the sandwich overall didn't have quite enough jalapeño flavor to be considered a jalapeño popper. Easily remedied though.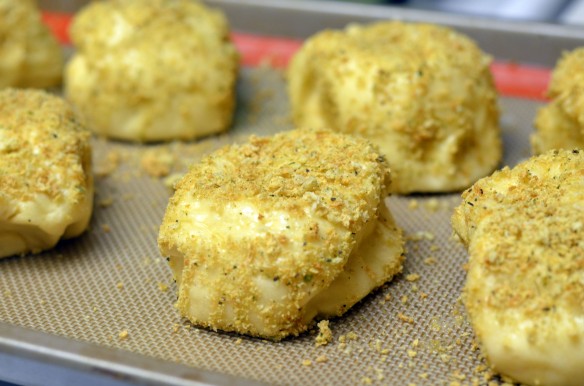 Homemade buns are a decent bit of work, made easier with a stand mixer, but worth the extra effort if you have the time because they really elevate the dish. You can make the buns earlier in the day, as well as poach the chicken for the dish, and everything will come together quickly in the evening for dinner— perfect after a long day of work or school when you don't want to put much effort in!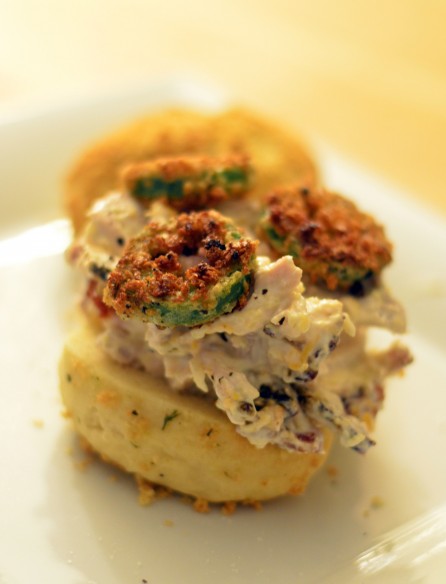 Shredded Chicken Jalapeño Popper Sandwiches with Crunchy Buns
Crunchy Buns
yields 8 (freeze or use leftovers to make lunch sandwiches)
1 tablespoon active dry yeast
1/2 cup warm water
1/2 cup milk
1 large egg
2 tablespoons granulated sugar
2 tablespoons vegetable oil
3 cups all-purpose flour
1 tablespoon butter (or maybe egg wash)
3/4 cup Panko bread crumbs
Combine the yeast and warm water together in the bowl of a stand mixer, and mix until dissolved.
In a separate bowl, combine the milk, egg, sugar, and oil until smooth.
With the paddle attachment, mix the the yeast mixture and the milk mixture until combined.
Change to the dough hook attachment and slowly add the flour.
With the stand mixer on low, allow the dough to be kneaded for about 10 minutes until a smooth dough is formed that bounces back when pressed on.
Cover and let the dough rise for 1-2 hours in a warm area until approximately doubled in size.
Punch down the dough, divide into 8 ovals, lightly cover and let rise for about another hour.
Brush with butter or egg wash and top with Panko. If you have to handle the dough, the shape of the buns may change, but if you let them rest a few more minutes, they will return to looking like hamburger buns.
Preheat the oven to 375º.
Bake buns for 15-18 minutes until tops are golden brown.
Allow to cool completely before slicing and serving.
adapted from The Kitchn
Jalapeño Popper Sandwich Filling
serves 3-4
3/4 lb chicken, poached and shredded
1/2 cup light sour cream
1/2 cup reduced fat cream cheese
1/2 cup Mexican cheese blend, shredded
salt, to taste
pepper, to taste
3 slices, thick cut bacon, cooked and crumbled, fat reserved
2 jalapeños, sliced and deseeded
1/4 cup flour
1 egg white
1/2 cup Panko bread crumbs
Combine the shredded chicken, sour cream, cream cheese, shredded cheese, salt, pepper, and crumbled bacon in a medium sized bowl.
Dredge the jalapeño slices in flour, dip in the egg white, then cover in Panko. Fry the jalapeño slices in the same pan you cooked the bacon in (using the reserved bacon fat), until crispy and browned.
Add the filling to the middle of a sliced bun, top liberally with fried jalapeño slices, and enjoy!