Wedge Salad
This is has been on my list to make for so long now. I have the fondest memory of ordering a wedge salad with my mom at a fish house back in San Antonio. I was never the child to order salads, but my mom convinced me to have the wedge, and we both couldn't stop eating all the blue cheese and bacon (and the lettuce).
Erin wasn't enthusiastic about joining me on this effort. Iceberg lettuce is pretty low in her book (she's kinda a snob). But with enough accompaniments, a wedge salad becomes anything but a salad.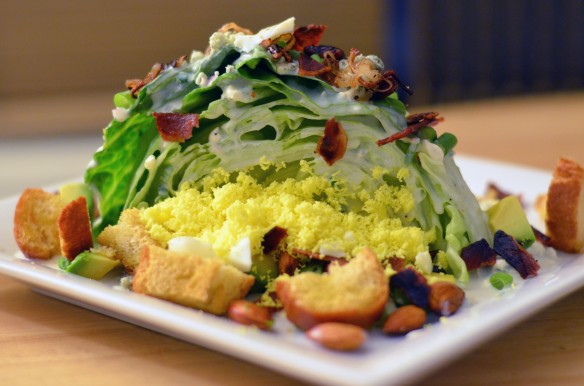 For my wedge salad creation, I covered an iceberg wedge in homemade blue cheese dressing, homemade croutons, crispy bacon, chopped avacado, dried cranberries, scallions, toasted almonds, bacon-fat fried shallots (amazing!), egg whites, and egg mimosa.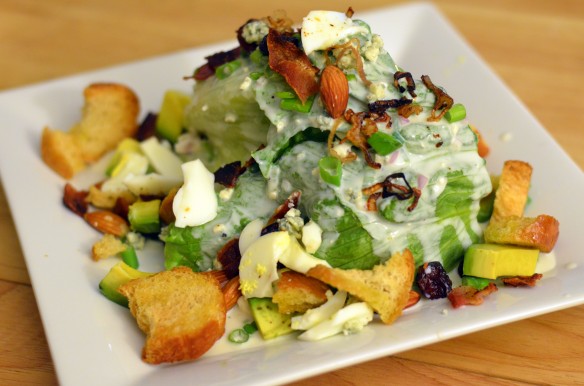 All of those are pretty obvious and easy to make, but if you've never heard of egg mimosa (like me), then a quick description is in order. Hard boil an egg and separate the white and the yellow. Push the yellow through a fine sieve. Tada! Egg mimosa! Although it sadly has nothing in common with the boozy version of a mimosa, this is still a tasty an interesting creation. It's light, fluffy, and beautiful.