Skittles Ice Cream
For the last two Super Bowl Sundays, we attended a party where the attendees had a long-standing tradition of eating Super Bowl Sundaes. We kept the tradition alive this year, although our spread might not have been quite as impressive as the one from back in Washington. I had totally forgotten about Super Bowl Sundaes, so after I was reminded, I knew I had to make some homemade ice cream on a whim. I remembered awhile back seeing a recipe for some Skittles ice cream, which seemed perfect to go along with our Skittles cookies and celebrating a dominating Seahawks victory!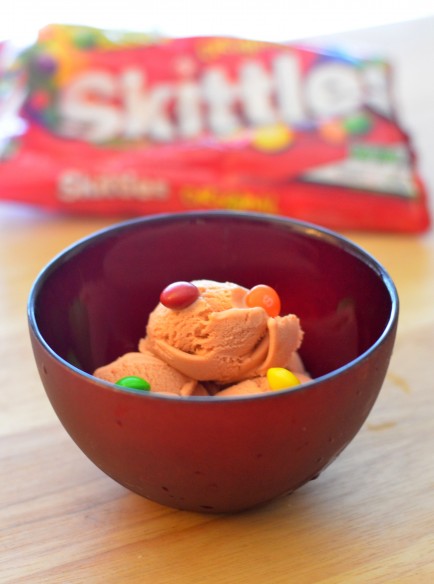 The ice cream tastes like you just ate a multicolored handful of Skittles— not any one specific flavor, but all of them combined into fruity deliciousness. It's definitely reminiscent of a really creamy sherbet and makes a great sundae base!
Skittles Ice Cream
yields 1 quart
1 1/4 cups Skittles
5 tablespoons water
2 cups heavy whipping cream
1 cup whole milk
1/2 cup granulated sugar
6 egg yolks
Combine the Skittles and the water in a saucepan over medium heat until the Skittles have melted. Set aside to cool.
Pour half of the cream into a large bowl and top with a strainer.
In a saucepan, combine the remaining cream, milk, and sugar over medium heat, whisking until heated, but do not let boil.
Whisk together the egg yolks in a medium sized bowl. Slowly pour about half of the hot cream and milk mixture over the yolks, whisking vigorously.
Add the egg mixture to the saucepan with the cream and milk mixture, cooking until thickened.
Pour the hot mixture through the strainer into the large bowl of cream.
Pour the Skittles mixture through the strainer as well.
Allow the mixture to come to room temperature before covering with plastic wrap and placing in the refrigerator.
Allow the custard to chill thoroughly for at least 3 hours, preferably overnight.
Churn in an ice cream maker according to instructions then transfer to a freezer-safe container and freeze until desired texture is reached.
Serve with hot fudge, nuts, whipped cream, cherries, and extra Skittles, of course!
slightly adapted from Chocolate Moosey