Chocolate Cayenne Pepper Cookies
It may sound a little crazy to put cayenne pepper in cookies, but chocolate and spice are a match made in heaven. Just go look at the aisle of fancy chocolates in the grocery store if you don't believe me. I was a little bored pretty late one evening, putting off reading I wasn't all that interested in completing. Dustin was out of town and the girls were asleep after a fairly long day of them wrestling and generally being brats, so I did the only thing I could think of... bake. Since I hadn't really planned on baking cookies, I didn't have a whole lot of ingredient options to choose from, and looking at the cabinet in front of me, these just flowed forth.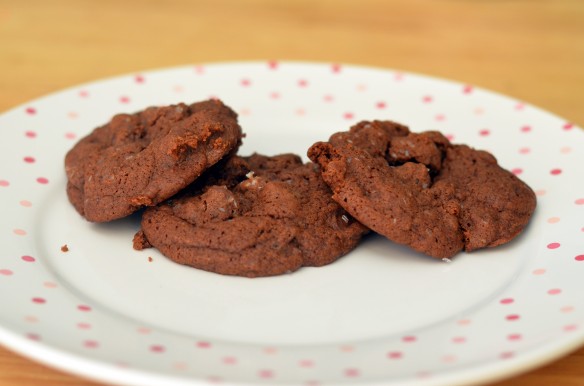 Cinnamon complements and adds a little something extra to the spiciness of the cayenne pepper. The spice isn't overwhelming accompanied by loads of sugar. During your first bite, you feel like there's something different in there, but you can't quite place your finger on it. Then in the aftertaste you get an ever-so-slight kick of spice that just keeps you coming back for more. Perfect with a glass of cold milk.
Chocolate Cayenne Pepper Cookies
yields ~ 1 dozen
1/2 cup unsalted butter, softened
1/2 cup brown sugar, packed
2 tablespoons molasses (can omit if you use dark brown sugar and/or don't care for molasses)
1 egg, room temperature
1 teaspoon vanilla extract
1/4 cup unsweetened cocoa powder
1 teaspoon baking powder
1 teaspoon cornstarch
1/2 teaspoon salt
1/2 teaspoon cayenne pepper
1 teaspoon cinnamon
1 cup all-purpose flour
3/4 cup chocolate chips
sparkling sugar, for sprinkling (optional)
Cream together the butter, sugar, and molasses in a large bowl until smooth.
Add in the egg and beat until smooth followed by the addition of the vanilla extract.
In a medium-sized bowl, sift together the cocoa powder, baking powder, cornstarch, salt, cayenne pepper, cinnamon, and flour.
Slowly add the dry ingredients to the wet, making sure not to over mix.
Gently fold in the chocolate chips.
Cover with plastic wrap and let the dough chill for at least an hour, if not overnight (I only did an hour though).
Preheat the oven to 350º. Line a baking sheet with a silicone mat or parchment paper.
Using a medium cookie scoop, scoop the dough out into 12 balls and place on the baking sheet.
Sprinkle with sparkling sugar if desired.
Bake for 10-11 minutes until cookies appear set on the edges and slightly soft in the center.
Allow to cool on the baking sheet for 10 minutes before transferring to a wire cooling rack.
Enjoy with a cold glass of milk.