Guinness Beef Stew + Irish Soda Bread
Yesterday was quite the crazy day. In addition to it being St. Patty's Day, we awoke at 6:25 to our first earthquake in LA— the Shamrock Shake. It was a 4.4 on the Richter scale, so strong enough to be significantly felt (the girls were pretty freaked, Bella especially, and we could hear everything rattling around on our bookshelves), but not enough that there was any real damage or injury, fortunately.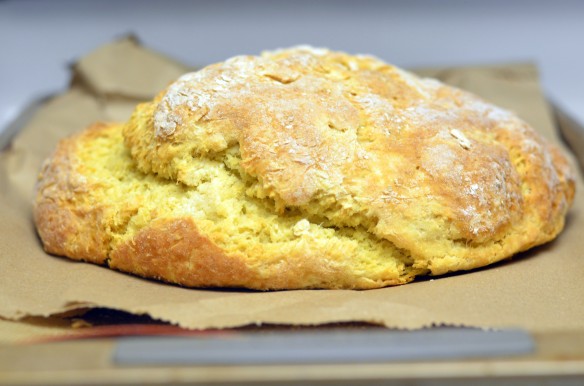 In much less exciting new, I'm still getting used to UCLA's quarter system. The quarter system means that before spring break, you have a week of finals. One extra set of finals isn't exactly fun, especially when you are being overwhelmed with statistics. Yesterday, I also had a very long review session, so you can bet it was nice to come home to this stew, all of the work done earlier in the day, ready to eat straight from the crockpot.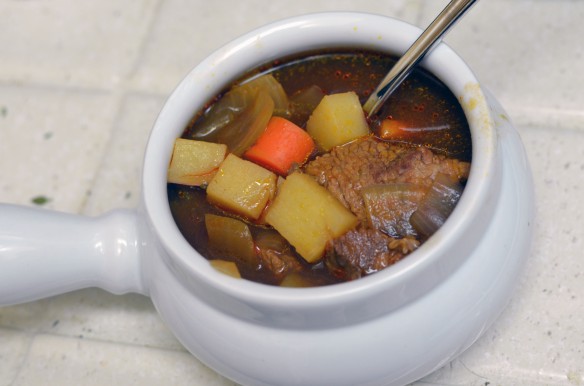 The broth is delicious and make the vegetables go from palatable to pretty tasty. You don't really have to use a good quality meat when making a stew, but we did, and we could sure taste the difference!
I read so much about making Irish soda bread— what is traditional and what is not— and in the end, I don't think I made something traditional, but I don't care. It was good, so I am happy.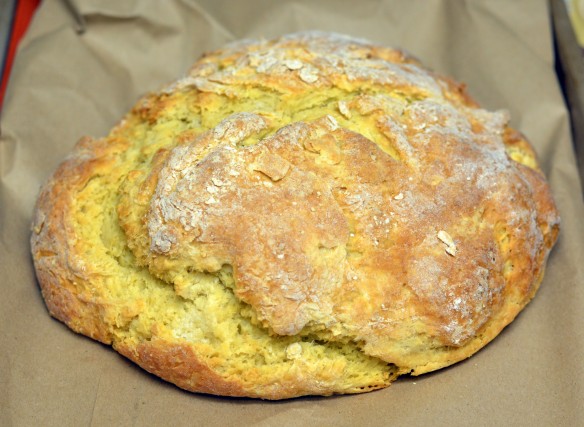 Here's to St. Patrick's Day (and Shamrock Shake Day)!
Guinness Beef Stew + Irish Soda Bread
Stew
3/4 lb stewing beef, cut into 1/2" pieces
1 tablespoon canola oil
1/4 cup flour
pinch of cayenne
3 cloves garlic, pressed
1 4-ounce can tomato paste
2 red potatoes, chopped
1 large yellow onion
2 stalks celery, chopped
4-5 carrots, chopped
1 12-ounce can Guinness beer
4 cups beef broth
5-6 springs fresh thyme
Coat the stewing beef with canola oil.
In a small bowl, mix the flour and cayenne pepper. Gently toss the beef in the flour mixture then transfer to a large pan over medium heat, browning all sides of the meat.
Add in the garlic and tomato paste, cooking for about a minute.
Transfer the beef as well as all of the vegetables to a crockpot.
Top with Guinness and beef broth. Add in thyme.
Cook on low heat for 6 hours.
Serve warm with soda bread.
adapted from Food Network
Soda Bread
4 cups all-purpose flour
1/4 cup granulated sugar
1 1/2 teaspoons salt
1 1/2 teaspoons baking soda
1 teaspoon orange zest
4 tablespoons unsalted butter, cut into 1/2" chunks.
1 3/4 cup low fat buttermilk
1 large egg, lightly beaten
Preheat the oven to 375º. Line a baking sheet with silicone baking mat or parchment paper.
Combine the flour, sugar, salt, baking soda, and orange zest in the bowl of a stand mixer.
Cut the butter into the flour mixture.
In a measuring cup, combine the buttermilk and the egg.
With the mixer on medium-low speed, add in the buttermilk mixture, and combine until everything is incorporated. The dough will be very sticky.
Transfer the dough to a well floured board and form into a disc. Score with a serrated knife.
Bake for~50 minutes until it sounds hollow when you tap on the bread and the outside is nice and golden.
Allow to cool on a wire rack before serving.
adapted from Ina Garten via Food Network