King Cake Monkey Bread
I'm all for celebrating Mardi Gras and Fat Tuesday because Mardi Gras means one thing to me...King Cake! King Cake with cream cheese filling was a big hit a few years ago, but I wanted to simplify the whole process, turning it into a pull-apart style monkey bread. So before Dustin left for San Antonio over the weekend, we celebrated early with this delicious brunch. It basically tastes like a delicious twist on a cinnamon roll.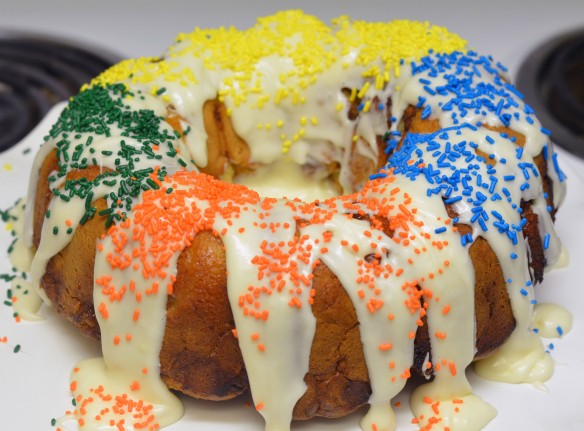 A bunch of recipes online called for refrigerated biscuit tubes, but I was unhappy with the selection at Trader Joe's, so I made my own homemade brioche for the dough. I made it the night before and let it rise in the fridge, so it was super easy to make the following morning.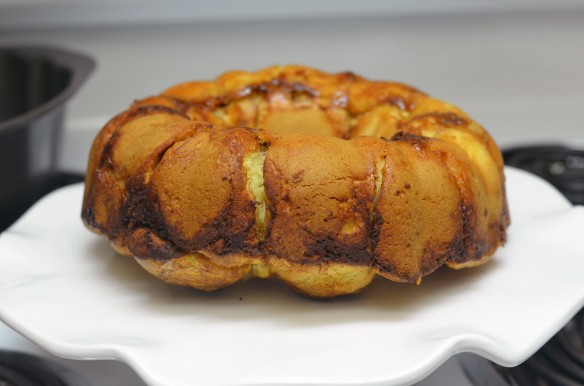 New Orleans has been high on our bucket list of places to go for awhile now (can't believe we didn't make it there when we lived within driving distance...), and we actually have a great excuse to go in a few weeks. But plane tickets there and hotels in the French Quarter are just so expensive that we are passing to save for an upcoming vacation this summer. As a result we are a little bummed— we really wanted authentic beignets, gumbo, and po' boys. Instead we'll just settle for King Cake monkey bread.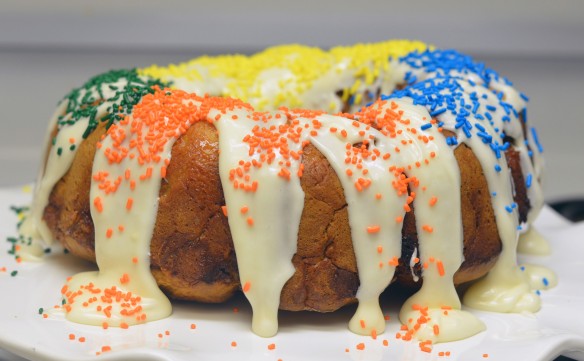 King Cake Monkey Bread
Dough
1/2 cup warm water
2 1/4 teaspoons active dry yeast
2 teaspoons + 1/4 cup granulated sugar, divided
1 1/4 cups all-purpse flour
1 1/4 cups bread flour
2 teaspoons salt
3 eggs, room temperature
3/4 cup unsalted butter, room temperature, cut into tablespoon sized pieces
Combine the warm water, yeast, and 2 teaspoons of sugar to let the yeast proof.
Combine the remaining sugar, flours, and salt in the bowl of a stand mixer.
Add the yeast mixture and mix for 2-3 minutes.
Add in the eggs, one at a time, beating after each addition, and mix for another 7-8 minutes on medium to knead the dough. The dough will be slightly sticky.
Lightly oil and flour a bowl and transfer the dough to it. Cover with plastic wrap and refrigerate overnight.
Cinnamon Filling
1/4 cup unsalted butter, melted
2 teaspoons cinnamon
1/2 cup granulated sugar
1/4 milk
Preheat the oven to 350º. Spray a bundt pan with nonstick cooking spray.
Combine the butter, cinnamon, sugar, and milk in a small bowl. Set aside.
Remove the dough from the fridge, break off pieces of the dough about 2 tablespoons in size and roll into balls.
Pile all of the balls around the bundt pan, pressing them together lightly.
Pour the cinnamon filling mixture on top of the brioche dough balls.
Bake for 50 minutes.
Allow the cake to cool before inverting on a cake stand.
Cream Cheese Icing
4 ounces cream cheese, room temperature
3 cups powdered sugar
1/2 cup milk
1/2 teaspoon vanilla extract
colored sprinkles, for topping
Cream the cream cheese together until smooth.
Alternated adding in the powdered sugar with the milk.
Add in the vanilla extract.
The icing should be thick but still runny. Add in more powdered sugar or milk, as needed until texture is reached.
Spoon the icing over the cake sitting on the cake stand.
Top with colored sprinkles.