Raspberry Waffles
Instead of using milk or buttermilk in waffles, I decided to puree some raspberries and use them as the main liquid ingredient.
I really didn't expect to end up with thick, puffy waffles, but these were some of the thickest, puffiest ones I've made to date (we don't have a Belgian waffle maker, so our waffles tend to be relatively thin but still delicious). Go figure.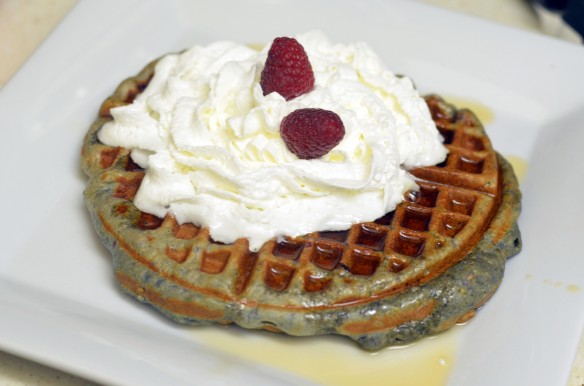 I really can't figure out why people buy waffle mix because this really isn't any harder and is so much tastier. Perfect for a weekend brunch!
Raspberry Waffles
yields 2 waffles
1 cup all-purpose flour
1 teaspoon baking powder
1/2 teaspoon baking soda
1/4 teaspoon salt
1 pint raspberries, pureed
2 eggs, divided into yolks and whites
1/4 cup brown sugar
1 teaspoon vanilla extract
whipped cream
maple syrup
additional raspberries, for topping
Heat a non-stick waffle iron to medium heat.
Sift together the flour, baking powder, soda, and salt in a medium sized bowl.
In a larger bowl, combine the egg yolks, brown sugar, and vanilla extract.
Slowly add the wet ingredients to the dry ingredients until barely combined.
In a small bowl, whisk together the egg white until light and fluffy.
Gently fold the egg whites into the batter.
Ladle the batter into the waffle maker and bake for approximately 3 minutes.
Top with whipped cream, maple syrup, and raspberries.