Scalloritos
There was an awesome seafood festival in the Ballard neighborhood we went to the last few summers. One of the dishes we immensely enjoyed were the Scalloritos from Alaska Weathervane Seafood— grilled bacon-wrapped scallops in warm tortillas with lots of extra goodies. We were trying to come up with some new dinner ideas, had some leftover tortillas, and thought why not make our own Scalloritos? A quick Google search reminded us of the all the details, and we were off to one of our favorite dinners in recent memory. Additionally, there isn't even any cheese in this dish, which is kind of strange for me given that just about any meal I eat with tortillas is accompanied by copious amounts of cheese (and I still think it was absolutely delicious)!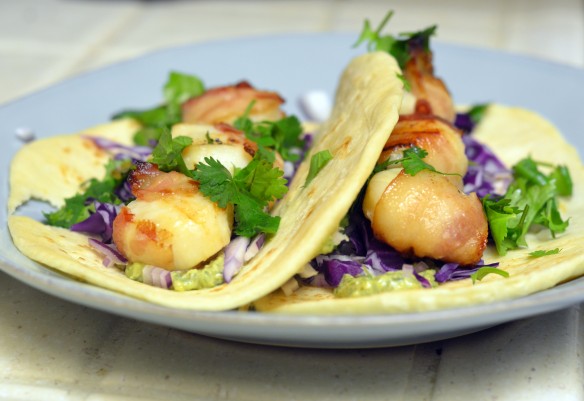 We've actually never tried grilling scallops, so we didn't know how they'd compare to our seared version from the stove, but they ended up cooked perfectly!
Scalloritos
serves 2
~12 small-medium scallops
~6 thin slices of bacon
1/2 cup pesto mayonnaise (we made ours homemade using equal parts pesto and mayo)
1 cup purple cabbage, shredded
1/2 cup cilantro, chopped
1/2 small red onion, chopped
4 warm flour tortillas, warmed
Cut the bacon to wrap around the scallops about 1.5 times.
Wrap the bacon around the scallop and use a toothpick to hold it together.
Heat up the grill and cook the scallops for ~3 minutes per side until the bacon is crisp. Make sure the scallops are very cold and don't flip more than is necessary.
Spread the pesto mayo on the warm tortillas, top with scallops, cabbage, cilantro, and red onion.
slightly adapted from Alaska Weathervane Seafood