Cookies 'n' Cream Cookies
I have honestly never gotten more compliments on a dessert I've made than these cookies. I took two dozen to school one afternoon and within 24 hours, they were all gone. A grassroots canvasser stopped me while walking to my building and asked for one. I ran into one of my cohorts in the elevator, and he requested one. Just about everybody in my lab gave me multiple thumbs up, and our visiting scholar from Canada sent me an email saying she ate 8 of them, and I was the reason she gained so much weight while in the United States.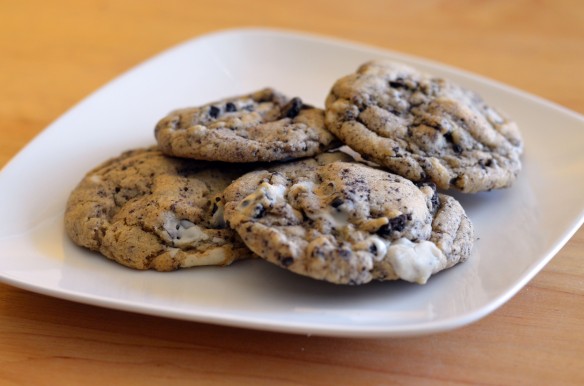 If that's not reason to make these cookies, I don't know what is. Cookies 'n' cream candy bars and pieces of Oreo chopped up and put into cookies kept soft with a bit of cornstarch. Basically they are a different kind of Oreo cookie if you get what I mean.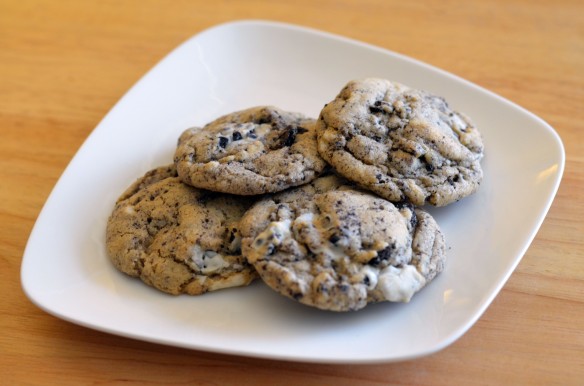 I've had several requests for more cookies to be made and perhaps even being commissioned to bake for a cookie party. Yum!
Cookie 'n' Cream Cookies
yields 2 1/2 dozen cookies
3/4 cup unsalted butter, softened
1 cup brown sugar
1/4 cup granulated sugar
1 egg
2 teaspoons vanilla extract
2 cups all-purpose flour
2 teaspoons cornstarch
1 teaspoon baking soda
1/2 teaspoon salt
12 Oreo cookies, lightly pulsed in a food processor
2 King-size Hershey's cookie 'n' cream bars
Cream together the butter, brown sugar, and granulated sugar in a large bowl until smooth in a large.
Add in the egg and the vanilla extract.
In a medium separate bowl, combine the flour, cornstarch, baking soda, and salt.
Slowly add the dry mixture to the wet and stir with a wooden spoon until just combined.
Fold in the Oreo and candy bar pieces.
Refrigerate the dough for at least an hour before baking.
Preheat the oven to 350º and line baking sheets with silicone baking mats.
Use a medium-sized cookie scoop to portion out the dough on to the baking sheets.
Bake for 10-11 minutes until lightly golden around the edges and soft in the middle.
Allow to cool on the baking sheet for at least 5 minutes before transferring to a wire cooling rack to finish cool.