Cream Sherry Gnocchi with Chanterelles
Last spring when we went on our visit to wine country in Eastern Washington, we came back with a nice bottle of sherry. We finally decided to crack it open for cooking and for sipping after dinner. We wanted a good recipe to showcase the sherry, and since these chanterelle mushrooms we picked up at the farmer's market are supposed to soak up the flavor of whatever they are cooked with, we decided cream sherry gnocchi with chanterelles it would be.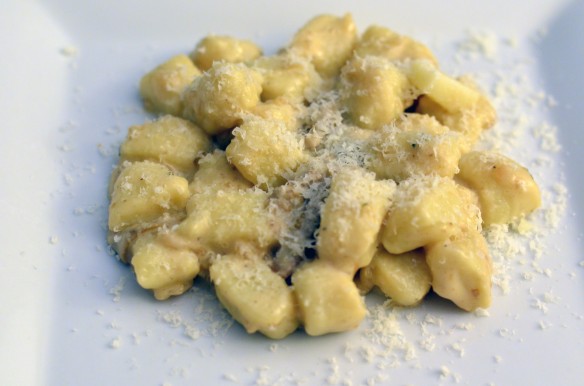 Once again, our gnocchi came out perfect in texture, and the sauce with the sherry and the chanterelles was truly amazing!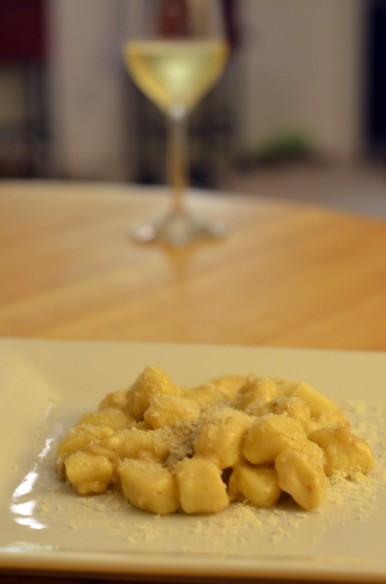 Cream Sherry Gnocchi with Chanterelles
serves 4
Gnocchi
1 3/4 lb russet potatoes, washed and scrubbed
1 1/2 cups all-purpose flour
1 large egg
pinch of salt
Bring a large pot of water with the potatoes to a boil.
Reduce to medium heat, cover partially, and cook for about 30 minutes until potatoes are tender.
Drain the potatoes and allow them to cool for several minutes before handing.
Remove skin from potatoes and press through a ricer.
Allow the potatoes to come to room temperature before further handling. In the meantime, bring a large pot of water to a boil.
Mix the flour, egg, and salt with the potato using your hands until a dough is formed.
Knead on a floured surface for about a minutes.
Divide the dough into about 8 balls and roll into ropes. Cut about every 3/4" to form gnocchi.
Cook the gnocchi in the boiling water for about 3-4 minutes, until the gnocchi float to the surface.
Drain and serve with cream sherry sauce (recipe below).
Sauce
3 tablespoons butter
4 cloves garlic, minced
2 shallots, minced
8 sprigs, fresh thyme
1 cup chanterelle mushrooms
2/3 cup sherry
2/3 cup chicken broth
1 lemon juiced
1 tablespoon cornstarch
2/3 cup heavy cream
2/3 cup parmesan cheese, shredded
salt, to taste
pepper, to taste
Melt the butter in a wide bottomed sauce pan.
Cook the garlic, shallots, and thyme on medium heat for a couple of minutes until fragrant.
Add in the mushrooms and cook for about 5 minutes, until soft.
Add in the sherry, chicken broth, lemon juice, and bring to a boil.
Reduce and allow to simmer. Stir in cornstarch until sauce has thickened.
Remove from heat and add in the heavy cream and parmesan.
Season with salt and pepper and pour over gnocchi.