Feta and Basil Stuffed Sombreroni Pasta
We bought this ridiculously awesome and ridiculously expensive pasta impulsively at Monsieur Marcel (just about the easiest grocery store I can think of to go broke at) just because it made us smile. Between the sombrero shape and the colored stripes, these guys just looked like a fun, party of a meal. Initially we didn't even realize you were supposed to stuff the pasta, and we were just planning on being simple and topping the basic pasta with high quality olive oil and a little bit of pecorino. But when we realized the sombreroni were designed to be stuffed, we got even more excited.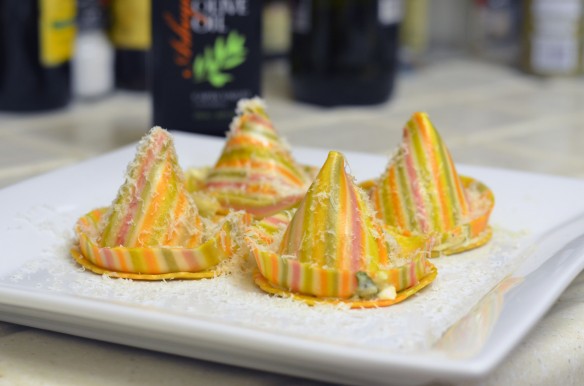 Since this was an impulse meal, we just used what we had leftover from other meals to stuff them, which happened to be feta, basil, and pecorino (which might be becoming a staple in our home, if just for putting on top of our weekly eggs). Stuffing Italian pasta with feta is probably not something I would have thought to do in other circumstances, but it totally worked. And the fun colors definitely brightened our day!
 Feta and Basil Stuffed Sombreroni Pasta
serves ~3
1 package Sombreroni pasta (seen here on Amazon)
8 ounces feta cheese
1/2 cup pecorino cheese, shaved and divided
1/4 cup basil shredded
2 cloves garlic, pressed
2 teaspoons Italian seasonings (whatever you desire including oregano, fennel seeds, crushed red pepper, etc.)
salt, to taste
pepper, to taste
1/4 cup olive oil
Preheat the oven to 350º. Lightly grease a baking sheet with olive oil.
Bring a large pot of water to a boil and cook the pasta tops and bottoms until al dente.
Place the feta in medium-sized microwave safe bowl and heat in 30 second intervals until the feta is soft and can be mixed smooth.
Add 1/4 cup pecorino, basil, garlic, and seasonings and mix.
Drain and remove the pasta from the boiling water and allow to cool for about a minute before stuffing the tops of the pasta with filling and connecting with bottom circles.
Place on baking sheet and bake for 6-7 minutes.
Top with olive oil and remaining pecorino.